County Voluntary Councils scoop £11m from Big Lottery Fund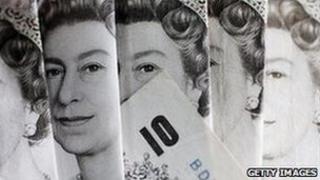 More than £11m in lottery grants has been won by organisations supporting minority groups in Wales to help give them a "stronger voice".
The Big Lottery Fund money will be used by County Voluntary Councils which support groups in 10 Welsh counties.
In Cardiff more than £1.4m will be spent on groups assisting single parents and organisations helping people with disabilities.
A total of £1.3m will be spent in Blaenau Gwent and Caerphilly.
Over £800,000 has been earmarked for Pembrokeshire, £688,000 in Powys, £980,000 in Anglesey and £842,000 in Conwy among others.
Cardiff Third Sector Council's (C3SC) £1.4m will support 10 projects and a range of groups including those working in the lesbian, gay, bisexual and transgender communities, disabled people, minority ethnic communities, and single parents.
Managed in partnership with Vale Centre for Voluntary Services (VCVS), there will be more than 2,300 beneficiaries over four years.
C3SC chief officer Shelia Hendrickson-Brown said: "We are very pleased to have received this funding support from the Big Lottery Fund.
"It will support our goal of working in partnership to help shape health services and influence them to be as accessible and relevant as possible for everyone - particularly for people with disabilities, who may face discrimination and often have more difficulty in getting the support that best meets their needs."
Pembrokeshire Association of Voluntary Services (PAVS) receives £827,667 for eight projects that will engage 4,800 people including carers, older people, young homeless people and people with learning difficulties or visual impairments.
Activities will include a community theatre and a moving stories project which will produce digital stories exploring the lives of those with diverse needs.
Domestic violence
Chief officer Sue Leonard said: "The community voice funding presents an exciting opportunity for voluntary sector groups in Pembrokeshire to do some really innovative work with groups of people who are reluctant, for whatever reason, to engage with public service providers through the usual channels."
In Powys, domestic violence victims, lone elderly people and people with a neurological disorder will be among those having greater influence on the design and delivery of services thanks to a £688,316 award to Powys Association of Voluntary Organisations (PAVO).
Some six projects will help 2,750 people.
Gwent Association of Voluntary Organisations (GAVO) will spend over £2.8m to help deliver and design local services in Blaenau Gwent, Caerphilly, Newport and Monmouthshire.
In north Wales, Conwy Voluntary Services Council (CVSC) receives £842,999 to manage five projects, while Swansea Council for Voluntary Service (SCVS) receives £783,542 for seven projects benefitting over 7,000 people.
All projects in Swansea will be linked to the area's involvement in the World Health Organisation's European Healthy City Network.
The Big Lottery Fund director in Wales John Rose said: "The funding announced today will provide more of an opportunity for Welsh communities to get their voice heard. It is about people speaking out to influence the decisions that affect their community and their own lives.
"Community Voice will support them to become more sustainable and resilient to future economic, social and environmental challenges as well as developing a stronger sense of community."