£6.4m Lotto winner claims after three month delay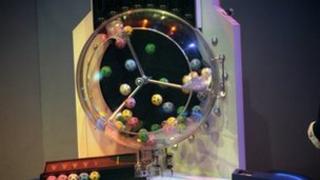 An unidentified winner in north Wales will be having a very merry Christmas after they claimed a £6.4m lottery jackpot three months late.
The September win was thought to have been Wales's biggest unclaimed prize.
Operators Camelot have been appealing for people in Anglesey and Gwynedd to check old tickets before the six-month deadline expired.
The National Lottery described the win as a life-changing amount of money. The ticket holder has asked for anonymity.
The draw took place on Saturday 8 September, with the winner matching all six numbers to take the £6,392,389 jackpot.
On the matter of the location of the mystery winner, Camelot would only say that the winning ticket had been bought in Anglesey or Gwynedd.
A National Lottery spokesperson said: "We're delighted that the winner of this amazing jackpot prize has now come forward and we hope that they will enjoy their win.
"It would have been awful if the ticket-holder had missed out on this substantial and life-changing amount of money, but thankfully they haven't and are now set to enjoy a very merry Christmas indeed.
"We would like to remind all National Lottery players to check their tickets every time they play."