Crunch Christmas revisited: City centre improvements boost image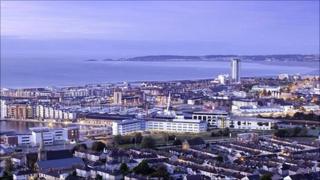 Last year in a series of reports from high streets in Wales, Crunch Christmas, we reported on how shops were faring in the battle with recession. We have returned to the same businesses to see what difference a year makes.
Just before Christmas 2011, Swansea clothier Godfrey Doolan made the perhaps surprising decision to open a second shop at a time when the overriding trend was retailers closing their doors.
The 64-year-old trader clearly knew his market, as a year down the road both the shops are holding their own in the face of a continued economic downturn.
In the run up to this Christmas, Mr Doolan reported that trade at his Moustache shops had been robust following some difficult times.
He told BBC News: "It's been a tough year but we've had a decent run into Christmas.
"I must admit we have had a very good regular trade with regular customers and we're doing ok at the moment. City centre wise the last three weekends have been blazing."
Mr Doolan describes himself as "cautiously optimistic" about the future while recognising that many people have to tighten their belts.
"I think it's a fact of life across the country at the moment," he said.
Speaking to his customers, however, he has found that they say they prefer to shop locally and support local businesses because they believe a healthy independent trade is more likely to attract bigger companies to the city centre.
He said: "The offering in Swansea hasn't been great and we're trying to offer something that hasn't been there.
"It's a case of if you don't use your local businesses the range of shops will be less and less.
"The second shop was a case of looking at what wasn't about. We have had a reasonable reaction to what we're doing. The customer base is building."
'Much more positive'
Julie Williamson, chair of the Swansea Bay branch of the Federation of Small Business, is another local trader who has opened a new establishment in the past year, in her case a takeaway baguette bar to add to coffee shops on the High Street and Orchard Street.
She believes the city is a more attractive proposition to shoppers compared to 2011, when her organisation had cause to raise concerns about city centre decline.
Ms Williamson explained: "I think a lot of emphasis was put on the High Street area and it really did get improvements. I'd certainly say that High Street is improved in appearance, and there is a distinct lack of anti-social behaviour there.
"I think we are finding that footfall is increasing. The Coastal Housing development has helped tremendously and we are in negotiations with the council to help things in future in the New Year.
"I think it's a very much more positive situation."
Ms Williamson thinks strong customer service has helped Swansea survive through the recession, which she attributes to the larger proportion of independent businesses.
"We have done particularly well this year in Swansea with the fact that they have come so high up the list of cities with regard to customer care," she said, referring to a National Skills Academy for Retail mystery shopper nationwide exercise in which Swansea came third.
Since last year, a plan to demolish the St David's Shopping Centre has become reality, with a 129-space car park opening on the site.
Nick Bradley, Swansea council's cabinet member for regeneration, said there was an ongoing city centre action plan in place, including a city centre loyalty card that had been taken up by 80 businesses and over 8,000 shoppers.
He added: "We've also arranged over 80 events in the city centre this year to improve the visitor experience and a major upgrade of the Lower Oxford Street retail area in partnership with the Welsh government has been completed.
"Many more businesses have benefited from building enhancement programme grants to upgrade the fronts of their properties and Castle Square was given a £200,000 spruce-up."