Llanidloes appeal for missing Gwyn Morris, 88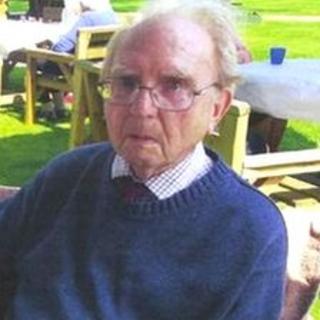 A family has turned to the internet to help police widen their appeal for an 88-year-old man missing from his home in Hertfordshire for nearly two weeks.
One suggestion is that Gwyn Morris, who has dementia, may be trying to return to Llanidloes, Powys, where he grew up and still has family ties.
Mr Morris went missing from his home at Stanstead Abbotts on 6 December, according to Hertfordshire police.
His family has turned to Facebook for help while officers continue the hunt.
Daughter Ann Hawker said: "We just want him back."
The family is appealing to the public to look for Mr Morris whose family ran a farm at Llangurig.
They have posted photographs of him online and are discussing his disappearance on Twitter using the phrase #HelpFindGwyn.
The Hertfordshire Mercury reports Mr Morris, who was a teacher at Ruthin School, Denbighshire, might be trying to visit his older brother Ronald, 90, who lives in Llanidloes.
Meanwhile, Hertfordshire Constabulary describe missing Mr Morris as "extremely vulnerable".
He is described as 5ft 4in (1.62m) and medium build. He has short, balding grey hair.
Mrs Hawker said her father had a "yearning" to return to Wales and may be trying to visit his brother.