Colm Thomas, Dylan Thomas's last surviving child, dies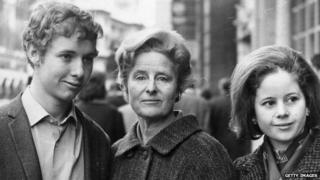 The last surviving child of the poet Dylan Thomas has died at his home in Italy aged 63.
Colm Thomas was the second son and youngest child of Thomas and his wife Caitlin.
He had lived in Italy for the latter part of his life, having being taken there by his mother in the years following her husband's death in New York in 1953.
Thomas' granddaughter, Hannah Ellis, attended Monday's funeral.
Author Paul Ferris, who went to Italy to research a biography of Thomas, said: "My impression of Colm was that he was much more reserved than the rest of the family.
"He would have been the baby of the family.
"When Thomas was dying in New York in 1953, one of the things he said was that he could not bear that he would not see Colm again."
Colm's sister, Aeronwy Thomas-Ellis, died aged 66 in 2009, and his brother Llewelyn died aged 61 in 2000.
Jeff Towns, a Swansea-based Dylan Thomas expert, met Colm Thomas in 2003 when Colm visited the city as part of events marking the 50th anniversary of Thomas' death.
'Incredibly photogenic'
Mr Towns described Colm as having been "incredibly photogenic" as a baby and small boy. He said he grew into a nice man, but one who kept himself to himself.
"It is sad because he was the last of Dylan's family," said Mr Towns.
"It's worthy of comment that Dylan's boys were not keen on basking in any reflected glory from their father.
"They lived their own lives and did not court publicity for having a father who was a famous writer. That was their decision and I respect that."
In 2014 a year-long programme of events will be held to mark the centenary of the poet's birth.
Last week the Prince of Wales visited the Swansea house where Dylan Thomas was born and brought up.
The prince will be patron of the festival, Dylan Thomas 100, which aims to highlight the artistic, cultural and commercial importance of Thomas's work.