Universities of Glamorgan and Newport to merge as South Wales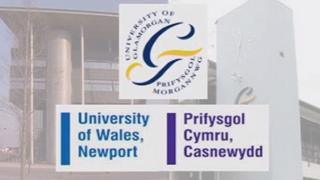 The universities of Glamorgan and Newport are to merge under the name of the University of South Wales.
Vice chancellor of the new university, Prof Julie Lydon, said the name had "strong geographical recognition".
Last week the boards of governors of both universities agreed a business case for the merger by autumn 2013.
Education Minister Leighton Andrews gave them the go-ahead to join forces after failing to persuade Cardiff Met to join a three-way merger.
Mr Andrews wants to see the creation of a super-university for south east Wales to keep pace with rivals across the UK.
'Substantial benefits'
The formal process to adopt the new name, chosen after market research, now begins.
It has been submitted to the Higher Education Funding Council for Wales for the required "support and investment" for the new university.
"The University of South Wales was overwhelmingly supported as our new name amongst every single stakeholder group that we spoke to," said Prof Lydon.
"People told us that University of South Wales made sense because of the strong geographical recognition that it provides and the way it reflects the backgrounds of the two existing institutions."
She said the merger was a "historic moment" for the communities of south Wales.
"Newport and Glamorgan have many areas of strength and proud histories, but the new university will be a flagship institution that will deliver substantial benefits for the people of Wales."
The business case for the merger showed it can create a "larger, well-resourced and financially sustainable university", she added.