Vomiting bug affects 11 wards in north Wales hospitals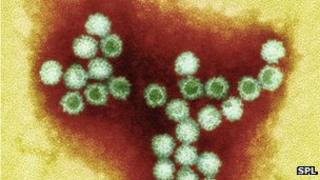 Five hospitals in north Wales are still affected by the winter vomiting bug, norovirus.
Betsi Cadwaladr health board said that 11 wards are currently affected with 38 patients experiencing symptoms.
Hospitals affected are Ysbyty Glan Clwyd, Colwyn Bay hospital, Ysbyty Gwynedd, Dolgellau hospital and Wrexham Maelor.
The Health Protection Agency has said a 72% rise in cases was unexplained.
The advice is for anyone with symptoms not to visit patients in hospital until at least 48 hours after symptoms have cleared.
Sue Carter from the Betsi Cadwaladr University Health Board said the outbreak was being controlled within the hospitals with restrictions on movement of patients.
She told BBC Radio Wales that in most of the wards affected it was confined to "some bays, or a single bay".
"Our restrictions are on movement of patients so that we don't move people out of affected areas," she said.
"We restrict patient transfers and also we try to restrict admissions into affected areas."
Ms Carter said there are exceptions but for the most part these restrictions are effective in keeping any outbreak "to a minimum".
"Obviously we want to avoid disruption to services," she added.
The advice to anyone who wants to visit someone in hospital is to check to see if the ward they are on is affected.
"If you're unsure you can ring before hand and ask at the desk as you go in.
"The wards affected also have signage up outside and you can speak to a member of staff to see if the person you're coming to visit is on an affected bay."
If it is not possible to delay a visit until an outbreak is over the advice to visitors is to wash their hands "very, very thoroughly before you leave for your own protection".
"If you could avoid bringing children too as children aren't able to wash their hands as well as we are and of course we don't want our children to be ill.
"The same applies to elderly people and people with chronic conditions as although vomiting and diarrhoea for most of us is not very pleasant, it's soon over, the effects are worse for some people.
"You are infectious after you've recovered so give it a few days really before coming into a hospital," she added.