Schools science project aims to boost foreign language take-up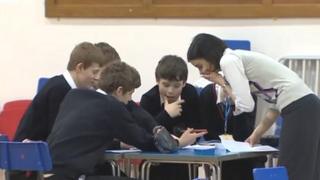 The National Centre for Languages in Wales has turned to the sciences to reverse the decline in pupils choosing a foreign language at GCSE.
The centre, also called Cilt Cymru, is working with 32 schools to encourage teenagers to study a language.
One project is with Stemnet, which promotes science, technology, engineering and maths (Stem).
It wants pupils to consider career prospects from combining science subjects with a language.
Science is compulsory in Wales at GCSE but modern foreign languages are not.
The idea is to show pupils who are considering their GCSE options that studying Stem subjects alongside languages can improve job opportunities in the UK and Europe.
Jana Witt is from Germany but is now studying a PhD at Cardiff University. She is a Stemnet "ambassador".
"As a scientist, you are being sent abroad constantly," she said.
World stage
"You're going to conferences, and even if it's a conference in the UK, there'll be people from all over the world there and it just helps so much if you can speak their language".
GCSE pupils in Wales have a choice of at least 30 courses but many are not opting for foreign languages.
In the past five years, the number of pupils in Wales taking French at GCSE fell by 28%. Entries for German fell by 38%. It is a similar pattern in England.
Kristina Hedges, of Cilt Cymru in Cardiff, warns that Wales needs to keep pace with the rest of Europe in language skills if it is to compete on the world stage.
"There is a need for language skills," she said.
"A recent survey of employers tells as that 45% of them need people with language skills for their business.
"If we've only got at the moment one in four young people taking languages in their options at secondary school, then there's a disparity between what the country needs and what we're providing in terms of the skills of our young people."
The Welsh government said it is committed to promoting foreign languages in schools.
Foreign languages are not compulsory in primary school either, but a spokesperson said guidance is available to the schools that choose to teach those subjects - and that it encourages others to incorporate it into the curriculum.
Sarah Broadhead works in the sales team at Tata Steel in Llanwern. She speaks French and Spanish. Her languages are a vital part of her role in the company, which has customers across the world.
"My languages help me as I can speak to the customers directly rather than go through my colleagues in different countries," she said.
"It means I can develop a relationship myself, they can understand me and I can understand their culture a bit more too".