Rick Wright, Cardiff City former chairman, dies aged 81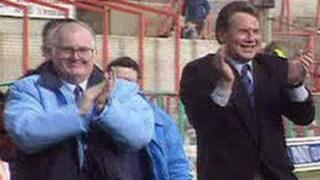 Cardiff City have paid tribute to former owner and chairman Rick Wright, who has died at the age of 81.
Mr Wright is remembered for kick-starting the club's ambitions when he oversaw the Bluebirds' promotion as Division Four champions in 1992-93.
He worked in partnership with manager Eddie May during the period that Jason Perry was team captain.
Cardiff City said: "Rick was a forward-thinking chairman who left a lasting legacy at the club."
A spokesman said black armbands will be worn by its players during Saturday's game against Peterborough and fans are being encouraged to give a minute of applause in tribute.
A businessman hailing from Manchester, Mr Wright was the owner of a holiday camp in Barry Island, Vale of Glamorgan, and is credited with a range of innovative schemes to promote the club and its income.
With Mr Wright's backing, May steered the club to promotion to Division Three as well as winning that season's Welsh Cup with a 5-0 win over Rhyl.
May died earlier this year at the age of 68, with Mr Wright paying tribute to someone he "called a real friend and completely trusted".
A Cardiff City spokesman said: "Everyone at Cardiff City is deeply saddened by the passing of our former chairman Rick Wright and our thoughts are with his family at this difficult time.
"He strengthened the club's fan base during the early 90s and safeguarded the club's next generation of supporters, not least by launching the Junior Bluebirds Supporters Club.
"During his time as chairman, the club also flourished on the field, gaining promotion to the old second division under the management of the late Eddie May.
Black armbands
"Rick's support for the manager and all-round vision brought players to the club during this period who supporters still talk about today.
"As a mark of respect, the club's players will wear black armbands during Saturday's fixture with Peterborough United and we encourage our fans to pay tribute to Rick with a spontaneous minute's applause ahead of kick-off."
Wright left the club in 1995. He died in Brisbane, Australia, after a stroke.