Sky lanterns ban from Cardiff council land considered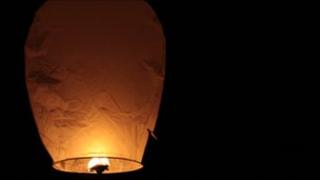 Plans to ban the release of sky lanterns from Cardiff council land are to be studied in more detail after the proposal was agreed by a committee.
Rhumney ward councillor Bob Derbyshire, recently appointed a "biodiversity champion," put the plan forward.
His bid to ban the lanterns and for the council to back calls for the Welsh government to ban them will to before the council's scrutiny committee.
Coun Derbyshire said: "Cardiff should be taking a lead."
Conwy is the only council in Wales which currently bans the release of sky lanterns from its property.
Last year, Wales' chief veterinary officer urged people to think again about releasing sky lanterns, warning they can hurt livestock.
The Welsh government is also looking at their effect, and the Marine Conservation Society and Keep Wales Tidy is calling for a ban.
A spokesman for Cardiff council said because of the implications of a ban and its enforcement, and to learn from the experiences of other councils, it will now be looked at by a scrutiny committee.