Blue badge disabled parking to be extended in Wales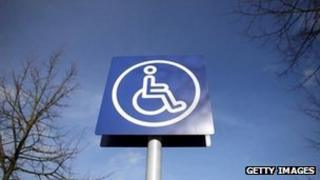 The blue badge parking scheme for disabled people is being extended to those with conditions such as autism, the Welsh government has announced.
The badges will now be offered to those with 'severe cognitive impairments'.
They will also be automatically available for those on the new system of personal independence payments (Pip) which come into force next spring.
Welsh ministers are also examining whether injured armed forces personnel could benefit from the scheme.
Around 230,000 people currently hold the badges, which are free of charge to physically disabled people.
In March 2012 there were 10,802 people of working age registered with learning disabilities in Wales but the number of those eligible for blue badges will not be known until Pip assessments take place.
"Extending eligibility to the Blue Badge scheme is a key element of our commitment to modernising the scheme," said transport minister Carl Sargeant.
"This commitment has been reflected by the fact that Wales is the first country to extend eligibility for a blue badge to people with cognitive impairments."
Changes to the scheme would mean that the carer of a person with severe learning disabilities could now use the blue badge to when driving them around.
Injured soldiers
The scheme will also include those who need the help of another person because of sensory issues, or use an assistance dog.
Another big change is the linking of the blue badge scheme to the new Pip payments. The new benefit will replace the existing disability living allowance in April.
Anyone aged between 16 and 64 and receiving the new benefit will automatically be eligible for a blue badge.
The Welsh government has also confirmed that it has been holding discussions with the UK Ministry of Defence on the issue of injured members of the armed services.
The government said it wanted to "examine the case for extending automatic blue badge eligibility to seriously injured armed forces personnel" who receive an award under the Armed Forces Independence Scheme.
The new rules on eligibility will come into force on 1 April, 2013.