Rhiwbina garden village in Cardiff celebrates centenary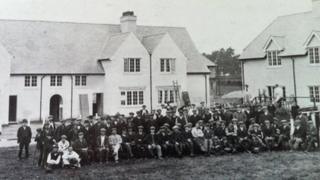 Visitors to Cardiff's only garden village, which is celebrating its centenary in 2013, would be forgiven for thinking time has mostly stood still since a plan was hatched to give workers a taste of the country.
The village has largely retained the timeless character its founding architects created all those years ago.
It was no surprise the producers of Doctor Who, no stranger to time travel, turned to Rhiwbina when requiring a period village for 2011's Christmas special.
But do not for one second think the proud residents might regret that the 21st Century has failed to impose itself.
Take 91-year-old Sylvia Morgan, for example, who has lived in the garden village every single year of her life.
Asked what had changed since she played on the green of Y Groes as a young girl, she replied: "Not a lot!"
"I think that's a good thing of course," she added. "I've always enjoyed it even when I was a child.
"Everybody that comes here to live is a similar type - very appreciative of everything that goes on.
"It's not like some places where people keep moving. They tend to stay."
The great and good behind the plan for a Cardiff garden village in the early 20th Century would surely be proud of their creation 100 years on.
They aimed to recreate the success of garden villages springing up in England and offer industrial workers simple homes with gardens, fresh air and plenty of space.
The 1913 prospectus for the Rhiwbina garden village said: "There is no dismal little backyard, but everything is free and open, and habits of neatness and cleanliness are at once acquired."
This was possible because it was built on land outside of the city sprawl at the time, at least until the north Cardiff suburbs finally caught up with it.
The community was to be run as a co-operative by Rhiwbina Garden Village Society with residents renting their properties.
The rental arrangement actually lasted until the 1960s when the houses were sold mainly to existing tenants.
Mrs Morgan, who brought up her two children in the garden village, has many happy memories of those early years, including dancing in Y Groes.
"I played on that green when I was a little girl," she said.
"All the kids would be dancing around the maypole,
"It's special to look out at it. I never wanted to live anywhere else."
However, the idealistic notion of giving the working classes some green space did not go entirely to plan.
Mary Clarke, chair of Rhiwbina Garden Village Residents' Association and a resident of 53 years, said the village soon gained a reputation for a different type of resident.
"The idea was to get people out of inner city areas for fresh air," she said.
"The idea was for the village to have grass verges and give workers a bit of space and a back garden where the kids could play.
"But the working classes decided they couldn't afford the rent."
The middle classes moved in instead, with the village gaining a reputation for boasting a number of distinguished academics.
These later included the man who went on to found the Welsh folk museum at St Fagans, scholar and poet Iorwerth Peate, whose former home in Lon-y-Dail is now honoured with a blue plaque.
The fact that the houses were rented suited the academic way of life as young lecturers could easily move elsewhere following a promotion.
Summer festival
Regardless of who lived there, efforts have continued over the years to retain the garden village's character.
It became a conservation area in 1977 and most of the houses have been listed.
The pride in the village endures and some of that will be reflected in celebrations to mark the centenary.
These include an exhibition of photographs and memorabilia at the library during the week of the summer festival and a revamped plaque for much-loved community building the Wendy House.
There is, however, more to a community than its bricks and mortar.
As Mrs Clarke puts it: "It's nice here. How would you interpret that? Well, it's so friendly and everything is to hand - the train, the bus, the school, the library.
"It's not any one thing, it's a combination of all those things. If you add all those things together you get the garden village."
Mrs Morgan added: "It's got something. People who come here say 'what a lovely place, I didn't know it existed'."