Dylan Thomas Under Milk Wood film rights gift to Wales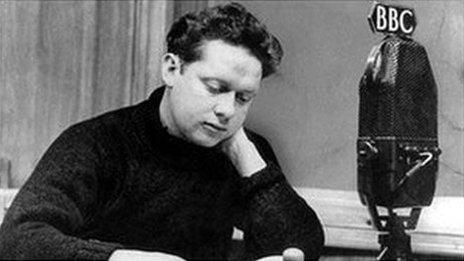 The director of the film version of Dylan Thomas's play for voices, Under Milk Wood, has gifted its rights to the people of Wales.
Andrew Sinclair has handed control of the 1972 film starring Richard Burton and Elizabeth Taylor to a new trust.
It is hoped the royalties will fund cultural and artistic projects and films made in Wales, including new interpretations of Thomas's work.
It comes as British Council Wales aims to showcase the poet to the world.
Made for £300,000 in the early 1970s, the film version of Under Milk Wood was shot on location in Fishguard, Pembrokeshire.
It portrays the lives of the inhabitants of Thomas' fictional Welsh village, Llareggub, and is based on the original radio play for voices by the Swansea-born poet.
The film's cast also includes Peter O'Toole and the Welsh comic actor Victor Spinetti, who died in June this year.
Dr Sinclair retained the rights to the film and kept a large collection of scripts, photographs and memorabilia which also form part of his gift.
While the exact amount that the rights will generate is difficult to pin down, it will create an annual income of tens of thousands of pounds for the new Wales-based Milkwood Trust.
Dr Sinclair announced the move at a 40th anniversary screening of the film at Cardiff's Chapter art centre on Wednesday evening.
He said he wanted to "reconcile Dylan Thomas who did not speak Welsh with the genius of the whole nation".
He told Radio Wales: "I think Dylan's been away from Wales for far too long."
He said Thomas had been "judged by chapel folk" during his life but was Wales' "greatest bard for 500 years" despite not being a Welsh speaker.
He added: "It's both about justice, that these rights to back to the people of Wales, but also the fact that I want to create reconciliation."
Artefacts displayed at the screening included letters written by Richard Burton and Elizabeth Taylor, photographs, original scripts signed by Victor Spinetti and other members of the cast.
Dewi Vaughan Owen, chair of Bafta in Wales, said that "the story behind this iconic film will now forever be part of the cultural legacy of Wales".
The film will go on a 12-city tour of the UK early in 2013.
Preparations for the centenary of the poet's birth are led by Dylan Thomas 100, a £750,000 festival throughout 2014 featuring a programme designed to highlight the artistic, cultural, educational and commercial importance of his work.
This week the British Council said it aimed to bring the Swansea poet's work to international audiences over the next two years. The project will be called Starless and Bible Black, after a line from Under Milk Wood.
Related Internet Links
The BBC is not responsible for the content of external sites.