Swansea University student sex trade study recruits ex-brothel madam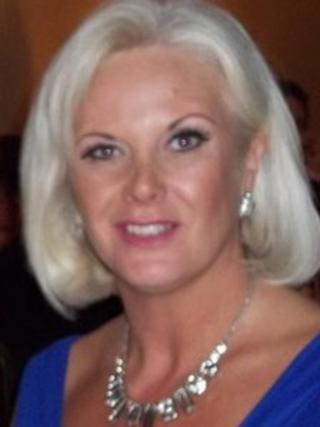 An ex-brothel madam has been enlisted to help in research by Swansea University into students working in the sex industry.
Becky Adams, 44, originally from the Hay-on-Wye area of Powys, worked as a brothel madam in the south of England for 25 years.
The three-year project in Swansea started in June after receiving nearly £500,000 from the Big Lottery Fund.
Ms Adams has lectured students and is writing for the project's website.
The site was set up so student sex workers could share their views in confidence.
Ms Adams, who was educated at a convent in Brecon, advises female students who contact the website.
She also lectured criminology students at Swansea University last month about the sex trade.
The Student Sex Workers' project is led by Dr Tracey Sagar and Debbie Jones from Swansea University's Centre for Criminal Justice and Criminology.
It is unclear how many students are involved in the sex industry in Wales, but researchers hope to reveal what motivates them to join it.
The university project identifies sex work as erotic dancing, web cam sex, phone chat sex, escort work, massage parlour work and work in the porn industry.
Ms Adams, who lives in Milton Keynes, said a website for first-time escorts run by one of her close friends had seen interest soar, especially from students.
"There are so many young women entering the business (sex industry) now that supply is outstripping demand," said Ms Adams, who set up an escort agency with two friends.
"With the financial pressures of student loans it's becoming far more acceptable for young people to turn to sex work to see them through their education.
"Women can earn £1,000 a week from being an escort, but the women who tend to earn the most are the ones who have a good customer base - a few gents they are fond of."
Ms Adams said attitudes towards sex had changed and people were more relaxed with it, which could be another reason why students were engaging in sex work.
But she said people could get hooked on earning big money and that had its drawbacks.
"It's very easy for people to get trapped in the sex industry," she added.
"They are attracted by the money and get hooked on it when they start earning lots. When students graduate they start a job earning a lot less, so the sex industry is hard to give up."
'Professional knowledge'
Ms Adams said she advised young women against doing sex work.
"I'm not sure if people aged 18 and 19 are emotionally mature enough to work in it," she said.
"If they are determined to get involved I advise them to look at their choices, tell them to look at it as a short-term thing and advise them to plan their exit."
Dr Sagar said Ms Adams provided her project with professional knowledge.
"Becky is a champion and supporter of the student sex work project," she said.
"She provides the project with her professional knowledge based on her experience of the sex markets."
National Union of Students Wales women's officer Rhiannon Hedge said most of what was known about students working in the sex industry was anecdotal.
"We want to move beyond hearsay and actually get some evidence so we can better support all students," she said.
The university project is in collaboration with Terrence Higgins Trust, the Integrated Sexual Health Clinic, Cardiff and Vale NHS, NUS Wales and Newport Film School.