Helpline Dying Well Matters launched for carers of dying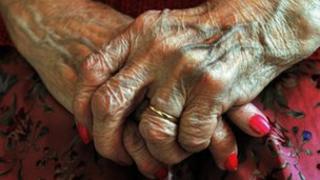 A one-stop shop for concerned families of patients who are dying has been set up to provide a single point of advice.
The helpline, called Dying Well Matters, will be available across Wales and provided by the Betsi Cadwaladr University Health Board.
It was launched on Wednesday by Health Minister Lesley Griffiths.
She said it would support the Welsh government's commitment to providing effective end of life care and support to patients and families.
Janet Roberts, the helpline's manager, said: "It's certainly unique to what Wales is offering to try and support both families and relatives who may have some concerns about how their loved one is being treated.
"It's also very much about making sure instead of people making several phone calls trying to find out what is the answer to the question we have one number across Wales.
"Our role has to be to show that compassion, we'll be trying to lessen any distress they're feeling even if it's just by making sure they get the information they want."
Volunteer Gaenor Taffinder added: "It's like a one-stop shop where they can access services and support and receive information.
"We know that it's often a very distressing time and it's very difficult to get the information that you need."
"If you're wanting to know about benefits or about financial support - it's not just about health care."
The helpline brings the number of Welsh government-funded helplines operated by the centre in Wrexham to five.
The helpline number is 0300 100 2011 and open from 10:00 to 22:00 GMT.