Visteon pensions: Swansea workers' cases at High Court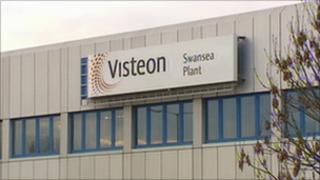 The first High Court hearing is due to take place involving all former Visteon car parts workers, including hundreds from the closed Swansea plant, who claim they lost out on their pensions.
Staff called for better pensions since it entered administration in 2009.
Ford, which transferred retirement funds to Visteon, says the pensions are not its responsibility.
Swansea West MP Geraint Davies is also tabling a private members bill on the issue in the Commons.
Visteon had been in Swansea site since taking over Ford's operations in 2000, and workers were transferred into the new organisation from Ford, as were their pensions.
They claim they lost significant amounts of their savings when the firm - which operated all over the UK - went into administration.
'Duty of care'
Workers say Ford should have given their pensions greater protection, but Ford says it was not their responsibility once Visteon was created.
Some workers claim they lost nearly 40% of the expected value of their retirement pensions.
The union Unite began legal action against Ford over the issue in the High Court in January 2011.
Ford has previously said it views the claim as being without merit, and will defend its position vigorously.
It says Visteon was an independent company in 2000 and was responsible for its own business decisions.
Mr Davies told BBC Radio Wales' Good Morning Wales the pension fund was "£350m underfunded" and Ford had a "duty of care" to former employees.
He added: "Once there's some sort of impact on sales in the UK, people will be scratching their heads round the directors' board table and wondering whether they should pay off the workers or lose more money through lost sales."
Earlier this year about 50 former Swansea workers joined other Visteon staff to present a petition at Downing Street.