University of Wales: Trusts formed to protect assets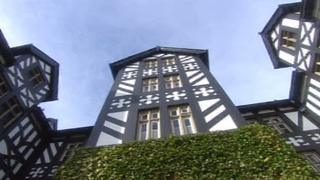 A number of independent trusts have been formed to protect the assets of the University of Wales (UoW) as it prepares to merge with two colleges.
The 120-year old university is in effect being abolished after BBC Wales' investigations raised questions about its scrutiny of partner colleges.
The trusts will safeguard traditional UoW services such as the University of Wales Press and Gregynog Hall in Powys.
The merger with Trinity Saint David and Swansea Met is expected in 2017-18.
The University of Wales' future had come into question following Welsh government proposals to rationalise higher education.
A merger with Trinity St David in Carmarthen and Lampeter and Swansea Metropolitan University was proposed as the way forward.
But a scandal uncovered by BBC Wales involving an alleged visa scam centred on a partner college in London offering UoW validated degrees confounded the plan.
The University of Wales Council announced Adduned Cymru - The Wales Pledge - on Monday to ensure that the assets it holds will continue to benefit the whole of Wales both before and after the merger.
The fund, which has a value of £6.8m, includes the creation of a number of independent trusts. These include:
The University of Wales Press
The University of Wales Dictionary
The Centre for Advanced Welsh and Celtic Studies in Aberystwyth
Gregynog Hall near Newtown.
The UoW vice-chancellor Prof Medwin Hughes said: "The University of Wales has a long and proud history dating back to 1893 and has made an outstanding contribution to higher education.
"However, times change. The Welsh university sector as a whole has grown and become stronger necessitating new ways of working to meet modern challenges."
Charitable gifts
The Wales Universities Trust will safeguard charitable gifts received over the years.
Total endowments received by numerous benefactors currently stand at £5.5m.
There is also the University of Wales Press Trust, the Gregynog Trust, an estate in Powys which once belonged to the social philanthropists and art collectors Gwendoline and Margaret Davies.
Meanwhile, land still held in trust by the UoW under the Welsh Churches Act, which is around 170 acres, as well as some common land, will be placed into a new separate trust.
Geraint Talfan Davies, chair of the Institute of Welsh Affairs, an independent think-tank, welcomed the announcement.
Mr Talfan Davies wrote an open letter asking for the UoW's assets to be distributed to other Welsh universities.
"It sounds like a reasonable way of taking things forward. Supporting them through trusts is much safer than depending on public money," he said.