Llanllyfni Football club's 'meals on wheels' plan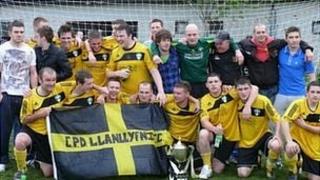 A Gwynedd football club is set to score with a "meals on wheels" business in the local community.
Llanllynfi FC's Cwt Cwcio (Cooking Hut) will provide two affordable hot meals a week as well as catering for events.
The club says it will also provide training opportunities and show young people the benefit of preparing meals from scratch.
The scheme is one of eight projects across Wales to share a Big Lottery Fund Village SOS award of £324,218.
The Cwt Cwcio, which receives £27,951, is being set up in a village which has lost its shop, post office and public house.
The food will be cooked by volunteers helped by a paid member of staff who will work a 16-hour-a-week.
Volunteers will then distribute the food in the Nantlle Valley area.
It will be an opportunity to develop more "community spirit" in the village, said Darren Thomas, one of the community members.
"Llanllyfni needs a sustainable community venture and this is just the start of our plans," he said.
"We will use existing local resources, such as the Memorial Hall, which will house the fridge and freezer to keep our produce. We also plan to utilise local food co-ops and farm produce."
The football club's committee came up with the idea and any money raised will be ploughed back into community "hubs" such as the club and the Memorial Hall.
Other projects which have received lottery backing range from a community transport scheme to the reopening of a village shop.
An electric car and van will be brought for the EVini project in Cilgwyn near Newport, to help people travel in rural areas.
"We are really excited and it's incredibly needed," said Vicky Moller the project coordinator and chair of the Cilgwyn Community Group.
"Transport is a huge issue in the countryside and the numbers of buses coming through Cilgwyn are dwindling."
The cars will be fuelled with energy generated by wind turbines, solar panels and hydro electric power and surplus renewable energy not used by the village hall.