Dylan Thomas to be promoted globally by British Council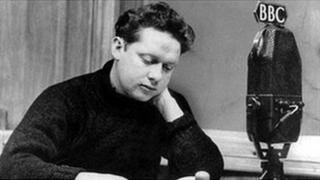 A project to showcase the work of Dylan Thomas across the world is being launched by the British Council Wales.
The aim is to bring the Swansea poet's work to international audiences over the next two years.
Poetry, drama and music performances are planned in India, USA, Australia, Argentina and Canada, alongside masterclasses and workshops.
It is part of Dylan Thomas 100, the event which will celebrate his centenary in 2014.
The project will be called Starless and Bible Black, after a line from the poet's work Under Milk Wood.
The British Council promotes cultural relations between the UK and other countries around the world.
Simon Dancey, the director of the British Council Wales, said he wanted to "expose the rest of the world to Welsh culture".
"There is an appetite for his work, but we wanted to break new ground in places like India and Argentina.
"We already have some links with Argentina with places like Patagonia but we wanted to broaden those links as well."
Mr Dancy told BBC Radio Wales the project was a combination of two things.
Contemporary artists
"The British Council is about cultural relations. It's about bringing Wales to the world and the world to Wales.
"We're hoping to expose the rest of the world to some great Welsh cultural organisations, but also for the people in Wales to experience what's happening to the rest of the world."
As well as being a look back at the work of Dylan Thomas it is about looking forward, using contemporary artists to interpret his work, he added.
Mr Dancey said he had studied the poet at A-level "a long, long time ago" but his work was universal, and spoke through the ages.
"It talks about a sense of place, identity... and it hasn't really changed. It's about the great Swansea life the poet had, but it's something about Wales as a nation as well.
"It's slightly melancholy, but also there's a great pride in being Welsh."