Eight Comet stores in Wales hold final sales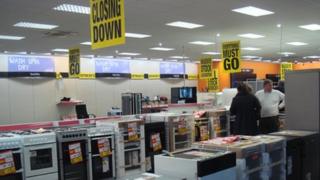 Eight of the remaining 12 Comet electrical stores in Wales are holding their final sales before closing.
They are among 54 outlets which will shut by Monday following the collapse of the firm.
The Bangor store closes on Sunday, followed on Monday by Cardiff Valegate, Cwmbran, Haverfordwest, Llandudno, Llanelli, Llantrisant and Merthyr.
The remaining 70 Comet stores in the UK - including four in Wales - could close by Christmas unless a buyer is found.
Comet branches in Rhyl and Wrexham have already closed, and 51 jobs have gone at a home delivery network hub at Chepstow.
By Tuesday only four Comet stores will remain open in Wales - at Bridgend, Cardiff Newport Road, Newport and Swansea.
Administrator Deloitte said it was in talks with a small number of potential buyers for the insolvent chain, but the head of a firm wanting to buy its website told the BBC last month he did not believe Comet would be trading by Christmas.
John Roberts, boss of Appliances Online, said he had made an offer of millions of pounds for the chain's brand and website.
This weekend's closures are among the 125 store closures announced last month, leaving just 70 stores from the original 236.
Reports suggest more than 3,000 jobs are affected by the latest round of closures.
More than 1,000 employees, out of a total of 6,611, have already been made redundant since Comet went into administration at the beginning of November.
The chain has struggled to cope with the drop in consumer spending in the UK since 2008, and is the latest in a long line of high street retailers that have gone out of business during the downturn.