Jonah Jones art on show at National Museum Cardiff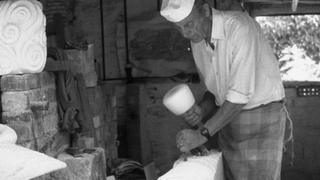 The work of artist Jonah Jones, whose craft encompassed sculpting, letter cutting, painting and writing is being showcased at an exhibition in Cardiff.
He helped Sir Clough Williams-Elis realise his vision for Portmeirion, the Italianate village in Gwynedd.
Oliver Fairclough, keeper of art at National Museum Wales, said Jones had a "deep affinity" to Wales.
"We hope this exhibition reflects the impression he had on people and on art in Wales over five decades".
The son of a coal miner, he was born Leonard Jones on Tyneside in 1919.
A self-taught artist, he came to Wales in 1948, settling in Gwynedd and later Cardiff.
His work as a sculptor ranged from monumental figures (including some on the Cardiff museum building itself) and large abstract reliefs to portrait busts and small carved figures.
Profoundly religious, he was also inspired by the Welsh language.
Jones is also remembered as a letter cutter, who made finely carved inscriptions in Westminster Abbey commemorating Dylan Thomas and David Lloyd George
He also turned his hand in the 1960s to stained glass and mosaic murals. Throughout his life he worked in watercolour, turning in his last years to painted texts.
Educator
After training as a sculptor and letter-cutter, he lived first at Pentrefelin in Gwynedd.
In 1966 he moved to a house he built overlooking the estuary of the Afon Dwyryd, near Portmeirion.
In middle age he became an educator, serving as director of Ireland's National College of Art and Design.
Jones eventually settled in Llandaff, Cardiff, where he died in 2004 at the age of 85.
Oliver Fairclough, keeper of art at National Museum Wales, said Jones' sculptures, framed inscriptions and watercolours on paper were key works in post-war Welsh art.
"This display is just a snapshot of Jonah Jones' work, exploring that the centrality of the written word to his art."
'Jonah Jones: The Word' opens on 8 December at National Museum Cardiff.