Flood insurance warning by MP Jonathan Evans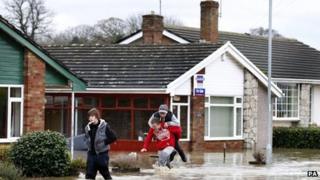 A Conservative MP says hundreds of Welsh householders could face having no cover unless there is an agreement over flooding insurance.
Jonathan Evans said talks between the UK government and the industry have gone on for more than two years.
Many householders will see their premiums rise without a deal, he warned.
Both the UK government and the Association of British Insurers have said they want to find a way forward.
Mr Evans, MP for Cardiff North and chair of the all-party insurance group, told the BBC's Sunday Politics Wales programme: "The current policy is going to expire in June with nobody anticipating it being renewed but the government and the industry now have to reach an urgent agreement".
The existing deal, reached in 2008, obliges insurers to provide cover for high-risk properties while the UK government continues to fund improved flood defences.
Financial risk
Discussions have been taking place for months to try to make sure the arrangement continues after June 2013.
The Association of British Insurers (ABI) is calling on the government to share the financial risk for the areas with the most homes at significant flood risk.
Mr Evans said UK ministers had rejected the proposal from the ABI in which the Treasury would provide a temporary, interest-free, overdraft for the insurance industry to help it meet the cost of emergencies in the first few years of a new scheme while the fund builds up.
He said the lack of an agreement was frustrating.
"The reason for that is that people who are at risk of flood, lots of those people being in Wales, a quarter of a million houses across the UK, those people are probably paying about a half of what the real risk of flood is," he said.
Better system
"So what they face is a potential doubling of their premiums unless it gets sorted out probably in the next month and half".
Environment Secretary Owen Paterson told MPs this week that talks were ongoing.
"We want to achieve a better system of insurance that is as comprehensive as possible, provides affordability, and is not a huge burden on the taxpayer. Those detailed negotiations are continuing," he said.
"The ball is in the ABI's court and we look forward to hearing from them shortly".
The Association of British Insurers said: "Insurers know their customers are increasingly worried about flood cover and we will therefore continue talks with government to try and find a way forward.
"The severe floods experienced by many areas of the UK this year are a reminder of the rising flood risk facing the UK. It is therefore vital that insurers and Government tackle this issue together - this is not just a problem for insurers.
'Doing their bit'
"No country in the world has a free market for flood insurance with high levels of affordable cover without some form of government involvement."
But Mr Evans said he felt the chances of an agreement were 50/50.
He was concerned that the UK government did not want to be part of any future scheme and it would be left to the industry to sort out.
"We could have a complex system in which we could potentially see a charge of £20 or £30 across the board for everybody - whether affected by flood or not - with everybody doing their bit.
"But that could be viewed as being unfair on the poor."
Mr Evans added that the worst of all outcomes would be one where there is no agreement.
"The industry says in June that it's market forces and we're going to work out what your risk is and the potential consequences of that is a doubling of the cost of insurance".