Drink-driving: Cardiff, Swansea in top 10 problem areas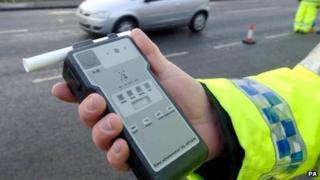 Cardiff and Swansea are among the 10 areas of the UK with the worst record for drink-driving, according to an analysis of car insurance applications.
Cardiff is third and Swansea eighth on the list, which is topped by the Yorkshire town of Harrogate.
It comes after price comparison website moneysupermarket.com analysed more than 14 million quotes from the past year.
Kieron Malloy of Cardiff Institute of Advanced Motorists said he was shocked Wales' biggest cities were on the list.
"I can't believe that Cardiff is so high," he said.
"I think South Wales Police have been doing quite a lot of good work and have a robust policy on drink-driving."
Mr Malloy, a solicitor and chairman of the Cardiff branch of the road safety charity, added: "I would not have thought Cardiff had a particularly high number of drink-drivers and I had no worries about it being a drink-drive hotspot.
"I suppose it would be positive if it meant that South Wales Police were making more arrests, as drink-driving kills."
Peter Roger, head of driving standards at the Institute of Advanced Motorists, said: "It's interesting who comes out top... nearly all the top jobs are scaffolders, roofers - they're these kind of activities.
"This is probably because these are the kind of people who drive a lot for their job because they are in a different place every day."
A drink-drive conviction affects premiums, adding up to 80% to quotes, he said.
"Young men typically are most at risk, if you try to break it down by age and sex, although there is a softening in the difference between young men and young women," Mr Roger added.
Despite the data, the number of people caught drink-driving during a summer crackdown across Wales this year fell compared to the previous year.
Roadside checks
A total of 360 people tested positive for alcohol or drugs - 1.9% of 19,277 tested in June.
It was down from the 2.5% who tested positive during the 2011 campaign, which was described by police at the time as "alarming".
South Wales Police - who cover Cardiff and Swansea - recorded the highest percentage of motorists who tested positive for drink or drugs at 4% during the summer campaign, while North Wales Police had the lowest at 1%.
The Welsh forces have also joined together again for this year's month-long Christmas drink-drive campaign, which will particularly target young drivers.
Officers across Wales will conduct high-profile roadside checks and will use intelligence to identify offenders.
Police tested 27,744 motorists in Wales as part of last year's campaign, with 545 (2%) testing positive or failing or refusing to take a breath test.