Homophobia tackled by Sport Wales and Stonewall Cymru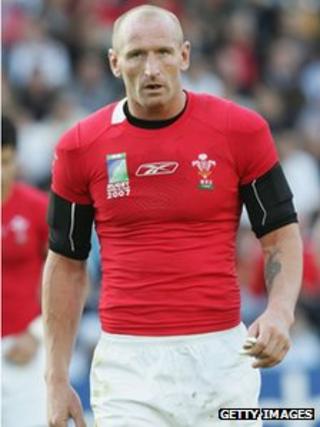 Rugby referee Nigel Owens is backing a campaign to tackle homophobic attitudes in sport.
Sports bodies such as the Football Association of Wales (FAW) are setting up a new group against discrimination.
It comes after results in a new survey show 75% of people have heard "homophobic banter" in sport.
And 25% of lesbian, gay and bisexual (LGB) people who took part in the sports study said they had felt isolated due to their sexuality.
Owens, from Carmarthen, who is the first openly gay man to referee at international level, says sexual stereotyping is a "deep rooted" problem.
"People at home see these stereotyped characters of gay people that are camp and very funny and assume that's what every gay person is like," he said.
"It doesn't occur to them that somebody exactly the same as them would be gay.
"By sports visibly committing to tackling homophobia it can only reassure people that they will be welcomed and accepted - no matter what."
'Double exclusion'
He made his comments in support of the campaign by Sport Wales and equality charity Stonewall Cymru with backing from the FAW to form a network to champion LGB issues and drive up participation in sport.
It has been set up on the back of findings into LGB people's participation in sports in Wales which showed that while 94% of 242 respondents took part in some kind of sport in the last 12 months, many encountered problems.
The survey found gay men more likely than other respondents to say that sport was not a safe environment for LGB individuals, identifying an issue of "double exclusion" from mainstream sports clubs because of sexual orientation and perceived ability.
Writing on the Sports Wales blog, Owens says that "acceptance is the key word for me".
'Commitment'
He said he and former rugby player Gareth Thomas, who also publicly announced he was gay, were "living proof" that sexual stereotypes "aren't always a true reflection".
Andrew White, director of Stonewall Cymru, said the research shows that for many of Wales' 184,000 lesbian, gay and bisexual people, their experience of sport is not always a positive one.
"Those involved in the running of sport must do more to show their commitment to tackling homophobia and encouraging gay people to take part in sport," he said.
Prof Laura McAllister, chair of Sport Wales which promotes sport nationally, said: "From schools through to community and professional sport, participants, coaches and spectators, the sector needs to take stock and look at what more can be done to ensure there is a warm welcome for all."