'Green shoots' for traders reporting Christmas sales up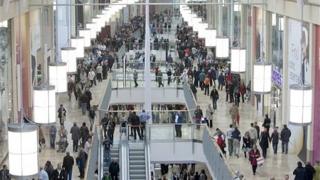 Last year in a series of reports from high streets in Wales, Crunch Christmas, we reported on how shops were faring in the battle with recession. We have returned to the same businesses to see what difference a year makes.
In December 2011, in Cardiff, and 16 miles away in the market town of Cowbridge in the Vale of Glamorgan, retailers reported mixed trading conditions, with many concerned about the future.
Cowbridge has a reputation for designer shops and boutiques but last year businesses reported a rise in window-shopping as opposed to spending.
In tough times changes have to be made and increasingly more retailers are turning to social networking sites, Facebook and Twitter, to boost their businesses.
Melissa Cowen, owner of high-end clothing boutique L'Armoire, says Facebook and Twitter have been invaluable for her business.
Ms Cowen said: "I think it really increases the awareness of your business and that can translate into sales.
'Investment pieces'
"I also have a lifestyle blog that is sent directly to my customers and that really works. You can see it translates to people coming through the door."
Ms Cowen had previously said customers were more careful about what they spent their money on.
"People are buying investment pieces, classic items," she said.
"I've built my customer base up - I started in the midst of the credit crunch in 2009 - and having that really good relationship with customers is important and when they come in you know what they want.
"I'm just going to keep doing what I'm doing in 2013."
More established shops are also changing with the times - with some even opening on Sundays, which for years retailers managed to avoid.
Karen Hutchings, director of Goose Island, began opening on Sundays over a year ago. She has also turned to Facebook and Twitter to reach shoppers.
Goose Island has been trading for about 17 years.
"We've been doing a lot of that, we've been sending news letters to customers," said Ms Hutchings.
"We've also been buying better, we've been travelling to Italy and buying the clothes directly, cutting out the middle man, and passing the savings on to the customer.
"It means the customer would save about £15 on a dress."
'Green shoots'
Many businesses in Cardiff have also reported a more positive Christmas.
Anna Knight, owner of Nest Vintage Living in Rhiwbina, opened three years ago.
"Green shoots are coming through, but shoppers are still cautious," she said.
"We're up on last year's figures for the whole of December people I meet at trade shows have been saying business is great."
Ms Knight also turned to Facebook and Twitter.
"Advertising costs a lot and this is free advertising," she said.
"It's about communicating with our shoppers and reminding them that we're here.
"People are managing their money better and we've worked very hard. I think we're doing well because we're working very hard."
Gift and coffee shop Garlands in Llandaff has suffered mixed fortunes this Christmas.
Business is much improved on last year and owner Sarah Thomas has seen a more "buoyant" shopper.
But the shop has had thousands of pounds worth of stock stolen following two break-ins last month.
"It's been horrendous," Ms Thomas said.
"They took the roof off , emptied all the handbags from the front of the shop and all the jewellery."
More than 60 handbags, worth over £100 each, were taken.
"We had to close for four days and we've never had to close before, not even in the snow," she said.
Buoyant shopper
But the team pulled together and got the shop, which opened 20 years ago, back up and running.
"Apart from that we're having a good Christmas," she said.
"We're seeing a more buoyant shopper than last year. There's usually a slow build up to Christmas from October but we just had a rush at the very end last year.
"This year we've got more flower orders than last year. Our shoppers are still cautious in their spending but there's the occasional shopper who's happy to spend."
Clare Heydon, manager of Vom Foss in Royal Arcade, Cardiff, which sells oils, vinegars, spirits and liqueurs has experienced a lift in mood.
"Overall it's really positive and we're ticking along nicely," she said.
Vom Foss opened 19 months ago and Ms Heydon expects sales to pick up further in the remaining days before Christmas.
"I think over the next few days we'll see a real rush," she said.
"I know from talking to other business people that trade is up this year."