Cardiff at Christmas: New York's 'safe city' path aim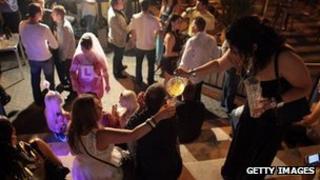 Cardiff is aiming to take a leaf out of New York's book by marketing itself as a safe city to enjoy Christmas.
Operation Mistletoe will bring the council, police and health services together to take care of an extra 300,000 to 400,000 expected visitors.
Police and council workers on duty will be doubled most nights, and tripled on Christmas Eve and New Year's Eve.
Cardiff Council said the extra numbers are intended as reassurance for revellers.
"The vast numbers of additional people who'll be in the city centre over Christmas - along with the fact that many of them will be drinking - does of course pose a logistical challenge, but one which we're more than ready for," said Councillor Ashley Govier, cabinet member for the environment,.
"Cardiff is a mature city now, and we've got great experience from stewarding rugby international days and even the Olympics.
"In actual fact, Cardiff is at a 12-year low for violent crime, and that's something which we don't shout enough about.
"Because make no mistake about it, in the current economic climate Cardiff is competing with every other city in Britain to attract party-goers, shoppers, and their much-needed cash.
"New York has shown that the way you keep people coming back is to offer them not only a fun city, but also an incredibly safe city."
As well as extra police and council workers, Operation Mistletoe involves volunteer city ambassadors offering assistance, temporary toilets and taxi ranks, and an army of staff to clean-up the streets around the clock.
There is even a city centre triage point at Ebenezer Chapel on Charles Street, where revellers in need of medical help will be given an initial assessment.
The triage point has cost £85,000 to implement, but will ease pressure on the emergency department at the University Hospital of Wales, where up to 60% of beds can be occupied by alcohol-related cases on a busy weekend.
For the first time this year, those attending the centre will be filmed on arrival and given the opportunity to watch the footage once they've sobered-up.
"There's a basic capacity to film people on arrival and as they leave," said Conrad Eydmann of Cardiff and Vale University Health Board.
"Our intention is that the vast majority of people will be surprised and hopefully concerned about the state of their behaviour."
While Mr Govier is confident that most people will act responsibly, he warns that those who don't will be dealt with swiftly.
"We want everyone who comes to Cardiff to have a fabulous time and not to have to worry about anything," he said.
"But we can put in all the effort and resources in the world. Unless the public cooperate with us by acting responsibly and entering into the Christmas spirit, then it won't work."