Crofter's home on Llyn peninsula seeks tenants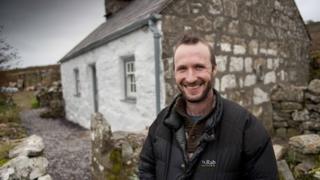 Wanted: A couple to be long-term tenants for a restored traditional crofter's cottage in one of Wales' most isolated and stunning locations.
As well as a three-roomed home overlooking Porth Neigwl on the Llyn peninsula in Gwynedd, the tenants will help the National Trust show off a neighbouring cottage.
It will be open early next year for visitors.
The Victorian ruins have been renovated to tell the story of crofting life.
Andrew Godber from the trust said: "I'm quite envious of those who are going to live there, to be honest."
Ancient and modern
The two crofter's cottages - Fron Deg and Tan yr Ardd, in Rhiw - are thought to date from the 1870s but had been forgotten for generations.
They have been rescued under the trust's Mab y Bwthyn (Son of the Cottage) project and renovated with trust and Heritage Lottery Funding to highlight an important chapter in the region's history and promote sustainable living.
Mr Godber, the trust's Llyn operations manager, said: "The buildings and landscape of Llyn tell a story of a crofting past, where self sufficiency, self reliance and need sculpted the environment in a way that ensure community sustainability.
"Times may have changed but there is so much to learn from this traditional way of life, which is why National Trust Wales as part of the Llyn Landscape Partnership has saved these cottages."
Fron Deg is being restored to show how a crofter would have lived in the early 1900s.
Tan yr Ardd is being given a more up-to-date look, renovated to show how a traditional building can be refurbished to modern standards with the highest environmental credentials without sacrificing any of its charm or character, Mr Godber said.
As well as a bedroom, one main room and a new bathroom, the cottage has solar panels for electricity and is fully insulated.
"It has all of luxuries of today, but in a way that has been sympathetically restored," said Mr Godber.
'Tight squeeze'
"By tackling these cottages with one foot in the past, and one in the future we can use the lessons learned from the sustainable ways of living and working a century ago to help ensure a sustainable future," added Mr Godber.
Traditionally, crofters who were plentiful in this area of Wales would have been self sufficient, working the land, with a vegetable plot, a cow and a couple of pigs and fruit trees to sustain them.
They would have bartered to obtain goods and food, Mr Godber said.
The new tenant or tenants - a family would find the croft a "tight squeeze" - will also have about 12 acres (4.9 ha) of land attached to the cottage, maybe for cattle grazing.
But they will also be expected to show school or other visitor groups around the croft next door as it becomes a tourist attraction from its opening on 1 March - St David's Day.
"Tan yr Ardd offers a fantastic opportunity for someone to make a home in a remarkable building that says so much about Llyn's past and potentially its future," added Mr Godber.