Leveson: Conservative MP Jonathan Evans backs legislation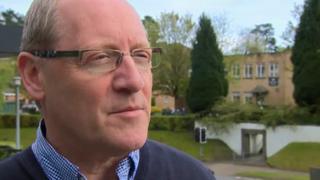 Conservative MP Jonathan Evans says he does not share Prime Minister David Cameron's concerns about Leveson report recommendations for media regulation.
The Cardiff North MP said claims that backing a new regulatory body with law would be the "end of democracy as we know it" were "overplayed".
Mr Cameron says he has "serious concerns" over statutory regulation.
Lord Justice Leveson has called for tougher media self-regulation backed by legislation to uphold press standards.
The prime minister has broadly welcomed Lord Justice Leveson's principles to change the current system but said there was a need to be "wary of any legislation that has the potential to infringe free speech and the free press".
Mr Evans, who is also a lawyer, told BBC Radio Wales that he was "probably one of the 50 [Tory] backbenchers" who was less convinced by Mr Cameron's concern that bringing the law to bear on media regulation was a bad thing.
He said: "I was disappointed by what the prime minister said initially. We need to have a debate about it. My inclination is that the concerns about statutory underpinning are being over done by ministers."
He said: "The concerns that have been raised about statutory underpinning I don't quite share with the prime minister.
"The proposals put forward by Lord Leveson are really quite modest. They are not really the leap in favour of statutory regulation that some people thought we might end up with.
"We have a modest system. I thought it was a modest response, and when he outlined that it needed to have statutory underpinning, from my perspective, I thought there was force in that."
However, Mr Evans said it was "unreasonable that the government accept everything from Leveson".
'Right system'
He said there was also a need for a debate to ensure that "the new system that we have put in place is the right system".
The coalition government was also right to be cautious when considering the Leveson recommendations, he added.
Proposals on data protection, for example, might have prevented details of the MPs' expenses inquiry coming to light, he said.
But warnings that Leveson proposals would curb press freedom were "overdone," he said.
Mr Evans said: "Welsh newspaper groups have written us to say 'democracy will be under threat if there's statutory underpinning'.
"I think they, similarly, are overplaying that card, just as I think people are overplaying it by saying "implement everything in Leveson" or in some way "everyone's been let down" [by Mr Cameron]."
He added: "I think we're going to have guts of what's in Leveson anyway. I think this new regulatory authority will be put in place.
"The press will be mad not to very, very quickly implement pretty much most of this."