Truancy: Parents in Wales face prosecution for unpaid fines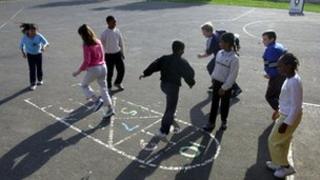 The parents of persistent truants could be prosecuted if they fail to pay fines under plans from the Welsh government.
It is consulting on introducing £60 fixed penalties for people whose children miss too much school, rising to £120 if paid within 28-42 days.
Ministers in Wales had previously rejected the idea.
But Education Minister Leighton Andrews says they could be a "quick and effective" way to deal with unauthorised absences.
They would be used where the parent or carer "is deemed capable of securing their child's attendance but is not willing to take responsibility for doing so".
Parents would face a £60 fine if paid within 28 days, or £120 if they pay after 28 but within 42 days.
If it is not fully paid after 42 days councils could seek a prosecution for the offence.
The details of how the system would work are contained in a Welsh government consultation document which says the fines could be applied for excessive holidays during term time.
They could also be used in obvious cases of truancy - such as when children are caught during sweeps - or for pupils who persistently arrive late.
Councils would run the system, but the notices could be issued by headteachers, police and community support officers.
The consultation document says attendance levels are improving, but there are still too many unauthorised absences.
It also links attendance to attainment in schools, citing research which found pupils who miss 17 days of school can drop a GCSE grade across all subjects.
'Ineffectual prosecutions'
The average truancy rate for secondary schools in Wales in 2011/12 was 1.4%. Nine local education authorities (LEA) had higher rates, with the worst at 2.7%.
In meetings with the Welsh government, LEAs complained about "protracted and ineffectual prosecutions" and asked ministers to consider fixed-penalty notices.
Mr Andrews said: "To put it simply, when a child is not in school, that child is not learning.
"I believe that fixed penalty notices would, in some circumstances, provide an important additional option when other intervention and engagement methods fail.
"As well as providing a suitable, quick and effective measure for improving levels of unauthorised absences, these proposals could also reduce the need for lengthy and costly prosecution cases."
He added: "Penalty notices should be viewed very much as an additional option to current intervention measures, but I believe that where used appropriately and fairly, they could make a positive difference to levels of absenteeism in our schools."