World Aids Day: Wales' 169 new HIV infections in 2011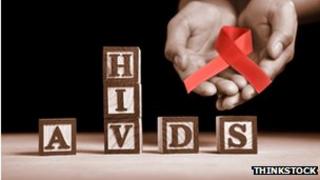 Health officials have warned against complacency about HIV, as figures show there were 169 new infections in Wales last year.
As a World Aids Day awareness campaign is launched, figures show 60 of the new cases involved sex between men and women, while 80 cases involved sex between men.
Across Wales, almost 1,500 people were treated for HIV in 2011.
Chief medical officer Ruth Hussey said the risk of HIV infection is very real.
"HIV may have slipped somewhat from the collective Welsh consciousness over the years, possibly because, thankfully, we no longer see so many deaths from Aids.
"This new campaign is targeted at a general audience, which reflects the fact that all population groups are at risk if they don't take sensible precautions."
Advertisements with the strapline "Thinking about sex? You are now!" are appearing across the country on buses, inside buses and trains, on billboards and at nightclubs, sports clubs, colleges and universities.
The adverts will also be backed by a bluetooth messaging campaign targeting mobile phone users at train stations in Cardiff.
People are being urged to visit the website 'friskywales' where they can assess their risk of infection, and find out about protection and where to go for testing.
Dr Hussey added: "There is no vaccine or cure yet available for HIV infection but there is treatment which dramatically slows the progress of the disease.
"It is therefore vital people assess their risk and get tested if appropriate, as well as taking measures to protect themselves against infection."
World Aids Day was first held in 1988, backed by the World Health Organisation.
The day in Wales is also being supported by the Terrence Higgins Trust, the charity that campaigns on HIV and sexual health issues.
Steve Jones, national director of the Terrence Higgins Trust in Wales, said the campaign was the first major anti-HIV promotion in years.
He said: "Unfortunately, there is a lot of complacency these days about people thinking there's a cure of HIV, which there isn't, and also that the treatment has improved to such an extent that it's not a big deal if they contract HIV.
"Sadly, it is though. There's been a lack of education over the last few years about HIV."
In particular, HIV awareness "does not feature that highly" in sex education for young people, he said.
Rapid testing
"Older people who are perhaps coming out of long-term relationships don't think that HIV will affect them because they don't fall in to certain categories," he said.
"So people just think it's never going to happen to them.
"Any of us who have had any form of unprotected test in the last 30 years has been at risk."
Staff and volunteers from the charity will be out in Cardiff city centre throughout Saturday, fundraising and offering advice and help.
Its centre on Cowbridge Road is also offering a rapid testing service and counselling.