Wales Christmas drink-drive campaign targets young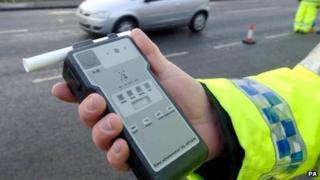 Young drivers will be targeted in this year's month-long Christmas drink-drive campaign.
Figures show that this year in the UK drivers aged between 20 and 24 failed more breath tests than any other group.
Police tested 27,744 motorists in Wales as part of last year's campaign, with 545 (2%) testing positive or failing or refusing to take a breath test.
Officers said they would target drivers across Wales, and in particular young drivers, who drive under the influence.
A hard-hitting television advert highlighting the consequences of drink driving will be shown throughout December as part of the Think! Christmas drink drive campaign.
Sue Storch, chair of Road Safety Wales, said: "My advice is that if you're expecting to drink alcohol during the Christmas holiday, plan how to get home without driving.
"Don't offer an alcoholic drink to someone you know is planning to drive and don't accept a lift from a driver you know has drunk alcohol."
Ch Insp Darren Wareing, who is in charge of the North Wales Police roads policing unit, said many people did not realise they could still be over the limit the next morning after a drinking session.
"We would urge everyone to think twice before getting behind the wheel the morning after and consider making alternative arrangements to get to work," he said.
He added: "If you drink and drive this Christmas you significantly increase the risk of killing an innocent person, or yourself or both. It is really that simple," he said.
'Great concern'
"Drivers need to be aware that regardless of the time of day they are caught, whether they are going to work or taking children to school, they will face the same penalties as someone who has chosen to drink heavily in a pub and driven at night."
North Wales Police will also be using the campaign to reinforce Operation Sodium - a campaign which launched during the summer in response to the growing number of young people involved in collisions linked to drink or drug driving, particularly in rural areas.
Ch Insp Wareing added: "Younger drivers tend to take more risks and this is a cause for great concern.
"Operation Sodium is aimed at reducing the number of young drink-drivers and those who drive whilst under the influence of drugs, who are putting their lives and the lives of other road users at risk on our roads."