Measles outbreak affects Swansea, Port Talbot and Haverfordwest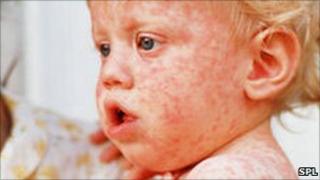 Health officials are investigating an outbreak of measles in west Wales in which two people have been treated in hospital.
Twelve probable cases and four confirmed cases have been diagnosed in Swansea, Port Talbot and Haverfordwest.
The cases are thought to be associated with people who stayed at a holiday camp in south west England.
Schools have been alerted and parents are being urged to ensure their children receive the MMR vaccination.
The two people treated in hospital have since been discharged.
Dr Jorg Hoffmann, consultant in communicable disease control for Public Health Wales, said: "Most of the cases under investigation could have been prevented by MMR vaccine.
"The only way to prevent outbreaks of measles is to ensure that at least 95% of children in Wales have received two doses of the MMR vaccine.
"Although more children are having the vaccine now, we still have some way to go before we can guarantee the safety of children in Wales from measles."
Letters are being sent to five schools in the affected areas to advise that measles is circulating.
A vaccination session is also being arranged for any pupils at Pentrehafod Comprehensive School in Swansea who have not been immunised.
Parents of pupils at other affected schools are being asked to ensure children aged up to 16 who have not received two doses of the MMR vaccine are vaccinated through their GP.
The most common symptoms of measles are fever, cough, sore eyes and a rash that develops over three to four days, beginning with the face and head and spreading down the body.
"Most people make a full recovery but there is a rare possibility of severe complications including serious eye disorders, deafness, brain damage and even death," said Dr Hoffmann.
There were 61 confirmed measles cases in Wales up until the end of June this year compared to 19 in the whole of last year, 8 in 2010 and 159 in 2009.