More than 1,400 badgers vaccinated against TB in Wales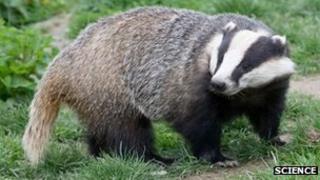 More than 1,400 badgers have been vaccinated under trials to drive down bovine TB in Wales.
Environment Minister John Griffiths said the Welsh government had completed the first part of its badger vaccination programme.
The trials replaced a controversial cull, which was scrapped in March, and were carried out in parts of west Wales dubbed an intensive action area (IAA).
Options for vaccinating in other areas are being considered.
The IAA is primarily located in north Pembrokeshire, but includes small parts of Ceredigion and Carmarthenshire.
The Welsh government said last year it was one of the areas with the highest incidence of bovine TB in Europe.
Mr Griffiths said: "Provisional figures indicate that since May we have successfully caught and vaccinated over 1,400 badgers in the IAA.
"Our vaccination programme has enabled Wales to take quick and decisive action to develop a degree of immunity to TB within the badger population in the IAA.
"We believe that this should reduce the risk of TB transmission from badgers to cattle and contribute to the eradication of bovine TB over time."
The minister has asked Chief Veterinary Officer for Wales Dr Christianne Glossop to consider other areas for vaccination.
He added: "The success of the badger vaccination initiative is dependent on staff being granted access to as much land as possible.
"I would like to thank farmers and landowners for their ongoing co-operation and encourage other partners and stakeholders to consider how they could work with us to increase the number of badgers we can vaccinate in Wales."
The IAA covers 288 sqkm (110 sqm) and it is thought to be the first time a project to cage and vaccinate badgers has been carried out on this scale.
The decision to scrap the cull angered political opponents and agricultural unions who say the disease has a devastating impact on cattle farms.