Wildlife Trust success in cutting Himalayan Balsam by River Alyn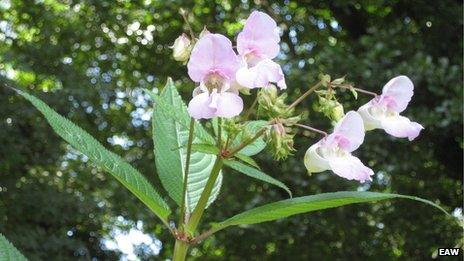 A project to eliminate an invasive plant which threatens protected waterways in north east Wales is close to eradicating it completely from stretches of one river.
Himalyan balsam is an alien invader, brought over as an ornamental garden plant but now causing havoc after escaping into the wild.
North Wales Wildlife trust has been working to uproot it on the River Alyn since 2009.
It says the plant has been cut by 98%.
Baslam, like Japanese knotweed before it, produces an effective monoculture because it outcompetes other plants and prevents them from growing.
It is particularly prevalent along riverbanks, and because it completely dies back in the winter it leaves the bare soil vulnerable to erosion.
Adrian Lloyd Jones, conservation officer at North Wales Wildlife trust, says they started to notice Himalayan balsam proliferating along the River Alyn for a number of years and realised it was becoming a problem.
The Alyn is a feeder for the river Dee, a protected site.
"It was felt that if we enough volunteers got together with the Environment Agency we could eradicate it," he told BBC News.
Unlike other invasives such as Japanese knotweed, which has an extensive system of rhizomes underground and is difficult to remove, the balsam can be easily uprooted.
Its seeds only last in the environment for two years, so if it can be prevented from seeding for that period of time it should be possible to go a good way to eradicating, according to Mr Lloyd Jones.
Working with local authorities, the Countryside Council for Wales and other agencies, the trust began work in 2009 upriver on the Alyn to begin the process of balsam clearance.
Mr Lloyd Jones said: "We didn't have the resources to do any scientific analysis but I'd guess it has gone down by about 98%.
"We deliberately started at the top of the catchment and worked our way down because the seeds travel downriver.
"After the first year, we noticed a difference. There was a major difference by the third year and by the fourth year there was hardly any. But even one plant can produce a lot of seeds so we have to keep on top of it."
The trust is also looking at the feasibility of a multi-agency project on the River Dee to tackle balsam and two other invasive species, Japanese knotweed and giant hogweed.
Huw Jones, leader of the Environment Agency Wales' biodiversity team, said the Alyn project was a good example of a project tackling invasives that was sustainable and successful.
His team deal with a lot of aquatic invaders which are far less visible but no less of a problem for the Welsh environment, such as signal crayfish, which are a "huge problem" particularly in the south east.
"It displaces the white clawed crayfish. The signal crayfish doesn't have any natural enemies and carries a disease which will wipe out the white clawed crayfish."
The invader also burrows into river banks, causing stability problems and eats salmon eggs.
Mr Jones admitted there was not a lot they could do about this particular invader.
"We're likely to have to set up sanctuaries for them like in old quarries where signal crayfish cannot reach them, until hopefully a point in the future when a technique [to control them] will be able to be developed."
Some other large projects include one to tackle giant hogweed along the river Usk catchment.
"That plant is quite nasty and a public health risk because if you brush up against its leaves you get a bad reaction and it makes the skin sensitive to light," Mr Jones said.
Japanese knotweed remains a major problem - at one stage, Swansea council appointed a knotweed officer to tackle the problem, as the city is reported to have the most trouble with the plant in the whole of the UK - but Mr Jones said control of weeds like this had become much more professional in recent times.
More laws banning the sale of other invasive plants are in the pipeline.
He added: "We are at that stage where you're literally watching a native species being wiped out by an invader."
Although Environment Agency Wales supports projects tackling invasives to the tune of several hundred thousand pounds, economic constraints limits what they are able to do.
"The reality is the cost of eradicating all of the non-native species in Wales would be tens of millions of pounds, and that sort of money is not there," Mr Jones said.
"We have got to look at a project and see if it is going to be a sustainable solution or if it's just going to be a temporary fix."
Related Internet Links
The BBC is not responsible for the content of external sites.