Leveson inquiry: Phone hack victim John Tulloch backs regulation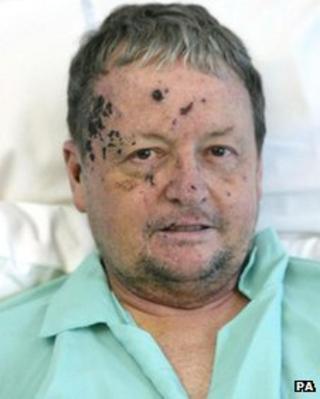 An academic from south Wales whose phone was hacked after he survived the 7/7 London bombings says that the press should be independently regulated.
Images of Prof John Tulloch's blast injuries after he was caught in an explosion on the London Underground in 2005 were published around the world.
Earlier this year he was told by police that his voicemail messages had been intercepted by the News of the World.
The Leveson report into press standards will be published on Thursday.
Prof Tulloch, from Penarth, Vale of Glamorgan, was on a train and sitting opposite bomber Mohammad Sidique Khan when he detonated his device.
Khan, Shezhad Tanweer, Jermaine Lindsay and Hasib Hussain murdered 52 people when they set off bombs on London Tube trains and a bus.
In the days after July 2005 bombings, a photograph of Prof Tulloch's bloodied and hastily bandaged face as he was helped from the wreckage appeared in the papers, and came to symbolise the brutality of that day.
But it was unwanted publicity, and it brought the press to his doorstep.
Prof Tulloch told BBC Wales: "I was bullied into giving a News of the World interview the day that the bomb squad brought my clothes back from after the bombing."
When phone hacking at the newspaper came to light, he was told that his voicemails had been intercepted.
The News of the World was closed down last year, but Prof Tulloch since began legal proceedings against its publishers, News Group Newspapers.
He said: "I was not a celebrity in any way, but when I got on that train and then a bomb, and the media made me for a while some sort of celebrity.
"We're people of many identities but all of us want to keep our privacy, and I think the issue of a moral dimension to it is why we need independent regulators.
"My privacy has been invaded, from perfectly legal activities to ones that are deemed illegal by the police.
"So that's my view because the press is not free, it's corporate.
"It costs us, it costs us dearly, and many of us have suffered from that."
On Thursday, having taking evidence from phone hacking victims, editors and politicians, Lord Justice Leveson will outline his proposals for regulating the press.