Yaseen Ali Ege: Yousef Ali Ege denies killing son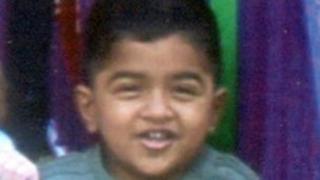 A Cardiff father has denied killing his seven-year-old son while having an argument with the boy's mother.
Yousef Ali Ege, 38, told Cardiff Crown Court he did not hit his child and "couldn't remember" him having any serious injuries.
Sara Ege, 33, denies murdering their son Yaseen and claims Mr Ege is responsible for his death.
Mr Ege denies causing or allowing the death of a child by failing to protect him.
Mrs Ege is accused of beating her son to death and setting fire to his body at their home in Pontcanna, Cardiff, after he failed to learn passages of the Koran.
She alleges Mr Ege beat her and their son for years before his death and then forced her to confess to the murder.
The death, which happened on 12 July 2010, was initially treated as an accident until a post-mortem examination found the boy was dead before the blaze began.
Mr Ege told Cardiff Crown Court on Tuesday the first he knew Yaseen had not died in a fire was when his wife told him he had collapsed on the day of the fire.
He denied ever knowing his son had been injured in the months, weeks and days before his death.
He dismissed suggestions he had ever hit his son and claimed to have no knowledge of a series of injuries suffered by his wife.
Peter Murphy, QC, for Mrs Ege, listed six visits to hospital A&E units or her GP with injuries she claims her husband caused.
In the last listed incident in June 2007, Mr Ege was arrested at home by police for assault but his wife failed to press charges, the court has heard.
Mr Ege said he had "no idea" why his wife would say he beat her.
"It is your case, isn't it Mr Ege, that you have no idea what was going on in the three months prior to your son's death and that you had no idea what went on on July 12?" said Mr Murphy.
"That is correct," Mr Ege said.
"Did you believe that your wife presented a risk to your son's life?" asked Mr Murphy.
"No," replied Mr Ege.
'Collapsed'
Mr Murphy put it to Mr Ege that on the day of Yaseen's death he argued with his wife, pushed her to the ground and when their son tried to intervene he kicked him several times.
Mr Ege said: "No sir".
Earlier Maura McGowan, QC, for Mr Ege, had questioned him about how he had come to learn of the real reason for his son's death.
He said it had been on a visit to their burned-out home to get clothes more than a fortnight after the blaze.
"She told me Yaseen was not feeling well [on the day he died] and said that he collapsed and that Yaseen had passed away," Mr Ege told the court.
"Until she told you this did you believe that the fire was an accident?" Ms McGowan asked.
"Yes," Mr Ege replied.
The trial continues.