Wales firefighters: On-call crew numbers 'lowest since 2004'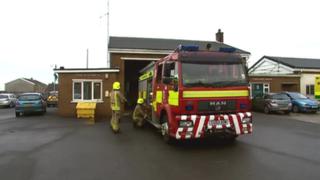 The number of retained firefighters in Wales is at its lowest since control of the service was devolved in 2004, a BBC Wales investigation has found.
Retained or on-call firefighters staff many stations, particularly in rural areas, and must live and work within five minutes of their base.
The Fire Brigades Union (FBU) has called for an overhaul of a system it says was designed for the 1940s.
The Welsh government said the issue was a matter for the fire services.
New figures show Wales' three fire services - in the south, mid and west, and north - had 1,039 retained firefighters at the end of the last financial year. They reported 169 vacancies.
The numbers peaked in 2009/10 when there were 1,195 retained firefighters and 41 vacancies.
The FBU said that in some parts of Wales the shortage of retained firefighters means that some stations were not able to provide proper cover and people might have to wait longer for help if they were affected by fire.
Keeping retained firefighters is also a problem. In 2011/12, 155 left their jobs.
FBU Mid and West Wales Fire Service secretary Barrie Davies said: "The system that we are currently working with was designed in the 1940s. Unfortunately society has moved on, but the system hasn't.
"The FBU believe that it's the low level of wages which is causing on-call firefighters to leave the profession earlier than we would like to see them go.
"We have a large number of on-call firefighters that leave the service every year, between 80 and 100. So as fast as they can train them up, they are leaving in their droves."
Payments for retained firefighters differs across Wales.
The North Wales and Mid and West Wales Fire Services follow the guidelines set out by the National Joint Council for Local Authority Fire and Rescue Services.
Retained firefighters are paid about £2,800 a year when fully trained. They have to be available to provide cover for 120 hours a week and then receive an hourly rate and disturbance fee if they are called out.
But a number of years ago, South Wales Fire Service decided to change the way it pays its on-call firefighters, who receive a salary of £9,750 when fully trained to provide 84 hours of cover.
The FBU believes if the other services adopted the same system as South Wales, they would find it easier to attract and retain on-call firefighters.
Another union, the Retained Firefighters Union (RFU), said keeping retained firefighters remained a challenge for fire services.
Adrian Hughes of the RFU, said: "Most stations have one or two vacancies. It is quite difficult. The demographics have changed over the last 10 or 15 years.
"Retention of part-time firefighters has always been an issue because it is quite an onerous job, or it can be, and a lot of people find it too hard to do.
"But a lot of people really love it and they stay for a long time. So there's always a turnover of staff at retained stations."
Chris James, 27, a retained firefighter in Tumble, Carmarthenshire, for the past eight years, said: "I decided I'd join up because years ago my parents owned a local newsagents.
"So the community had been supporting us in that way, so this was my opportunity to give something back to the community.
"It does test your mentality and your resolve towards the job to see people you know well in a position of panic and a predicament that you wouldn't like to see them in.
'Staffing shortfall'
"But it's all part of the training, it's what we are trained to deal with."
A Welsh government spokesman said: "Recruitment and staffing issues are a matter for the fire and rescue service in Wales.
"Fire and rescue authorities across Wales recognise the need to find innovative ways of attracting staff into the retained duty system (RFA).
"This includes promoting the benefits of joining the fire service to the widest possible range of primary employers.
"Where a staffing shortfall is identified, fire and rescue authorities can manage how they deploy their resources as a way of ensuring that appropriate fire cover is provided."