B&M Bangor: Woman hurt, five cars damaged by falling sign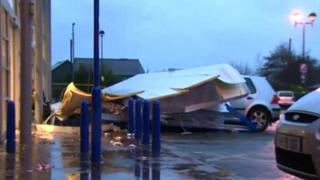 Five cars have been damaged and it is understood one person injured after a 10m sign at a retail park was ripped off in high winds.
The cars had been parked in disabled spaces outside the recently opened B&M store on the St David's park off Caernarfon Road in Bangor.
Police have sealed off the area while emergency services attend.
There are no details yet of the condition of the injured person, who eye-witnesses say was a woman.
'Terrible weather'
John Trubshaw, regional operations manager for B&M Retail, said the sign was ripped off the store by a gust of wind.
"Some cars were damaged and I understand a lady was trapped but the police have told us that she's what they call 'walking wounded,' he said.
"She's gone to hospital.
"People are there from the signage company but police have told them not to move anything until the wind subsides.
"We'll have a surveyor there in the morning to inspect the damage.
"The store was closed for the rest of the day. It's very unfortunate.
"I'm told the weather was terrible".