A55 flooding 'affected staff and delayed ambulances', says health chief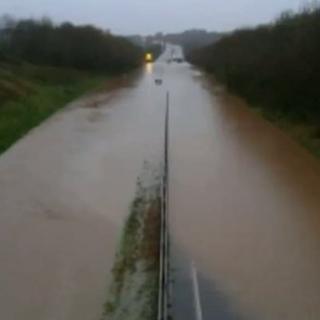 Flooding which closed the A55 put health services in north Wales at risk, according to a health board chief.
Betsi Cadwaladr chief executive Mary Burrows said ambulances were delayed and health service staff had trouble getting to and from work.
She wants to raise the matter with health minister, saying continuity of service was at risk.
The Welsh government has said it urgently investigating drainage of the A55 after a call from AM Aled Roberts.
There were long queues of traffic on the A55 last Thursday after flooding brought both carriageways to a halt.
In a letter to David Sissling, director general of NHS Wales, Ms Burrows says she wants to "seek assistance with other government departments on addressing the A55 flood risk, which has yet again put at risk our ability, with the ambulance service, to provide continuity of service".
'Virtually isolated'
"The closure of the A55 in a least two sections on Thursday 22 November isolated many communities, affected staff getting home and coming into work and required deployment of our weather contingency plan," she added.
"The west became virtually isolated.
"The only other road, the A5, which was accessible many hours later, is a single road that became completely overloaded with lorries."
It was "extremely difficult for ambulances to get to Ysbyty Gwynedd in any reasonable time", she said.
On Friday, North Wales AM Aled Roberts called for a review of drainage on the A55.
"It cannot be right that the only fast road into north Wales which everyone relies on for quick and easy access is turned into a river after some very heavy rainfall," he said last week.
He added that whilst Thursday's weather had been "exceptional" it was wrong that the A55 had been shut twice in the space of five months due to flooding.
A Welsh government spokesperson said a review would take place to "urgently investigate if improved drainage on the A55 at that particular spot could prevent similar occurrences in the future".
Meanwhile residents of north Wales were warned to prepare for the possibility of further localised flooding on Monday amid forecasts of more heavy rain.