Yaseen Ali Ege: Sara Ege was 'good mother', court told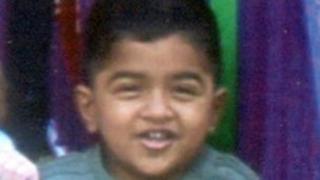 The mother of a woman accused of murdering her son after he failed to learn passages of the Koran claims her daughter was a good mother who looked after him well.
Sara Ege, 33, denies beating Yaseen Ege to death and setting fire to his body in July 2010 in Pontcanna, Cardiff.
Her mother Nafees Ahmed, giving evidence at Cardiff Crown Court, denied she was lying to help her daughter.
Mrs Ege claims her husband Yousef is responsible for Yaseen's death.
Yousef Ali Ege, Yaseen's father, denies causing or allowing the death of a child by failing to protect him.
Mrs Ege has previously told the jury that after Yaseen died she was forced by her husband to make a false confession to the police accepting she had killed him.
She told the court she feared her husband would murder her and target her family.
Mrs Ahmed gave evidence on Monday which supported claims made by her daughter accusing her husband's family of making threats to kill.
Mrs Ahmed told the court that she had been threatened with murder herself.
Maura McGowan QC, defending Yousef Ege, asked Mrs Ahmed: "Have you come here today to lie to help her?"
Mrs Ahmed, who lives in Hyderabad, India, and spoke in court through an interpreter, replied: "Why would I tell a lie? I am not telling lies."
During a brief cross examination she dismissed all suggestions that her daughter had ever confided to her that she beat Yaseen.
Cried
She insisted that her daughter was a good mother who loved Yaseen and looked after him well.
Mrs Ahmed also spoke of being threatened by the Ege family in India after Mr Ege was arrested for assaulting his wife in 2007.
It followed a domestic incident in which Mrs Ege suffered a split lip, the court has heard.
Her husband phoned an ambulance and paramedics reported the incident to the police.
Mr Ege was arrested but never charged because, Mrs Ege has told the court, she refused to press charges.
Peter Murphy QC, for Mrs Ege, asked Mrs Ahmed: "In 2007 were you made aware that there had been an incident that resulted in Yousef being arrested for hitting Sara?"
"Yes," she replied.
"Did you receive a visit at your house in India from any of Yousef's family?"
She said she had received a visit from her son-in-law's mother and others.
She said she was told: "If anything happens to Yousef we will kill you and your family."
Earlier on Monday, Mr Ege cried as the court was shown a video of his son.
Mr Ege, 38, shouted ''Why, why?" as the court watched Yaseen taking part in a Koran recital competition.
The court has heard that Yaseen was originally thought to have died in an accident in a house fire.
But a post mortem examination found the little boy was dead before the blaze began.
The trial continues.