Agricultural Wages Board: UK government consults over board's future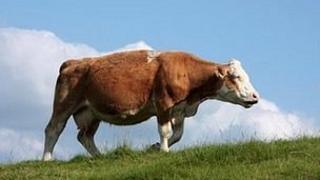 The UK government has held another consultation its plans to scrap a panel that sets farming wages despite opposition from ministers in Wales.
The Welsh government claims Westminister cannot abolish the Agricultural Wages Board without the assembly's say-so.
Set up in 1948, the board sets the pay and conditions of more than 13,000 Welsh farm workers.
UK ministers describe it as an unnecessary regulatory burden.
In July 2010, the UK government made a pledge to abolish the independent body, which has the power to set the terms and conditions of employment.
It argues removing the board will enable the industry to adopt flexible working practices and help ensure a sustainable and viable future for agriculture.
Scotland and Northern Ireland have their own wages board.
The deputy agriculture minister in Wales, Alun Davies, has asked for the authority to set wages to be devolved.
The National Farmers Union (NFU) agrees with the UK government's stance that the board is outdated, but the Farmers' Union of Wales (FUW) wants to retain it.