Rivers Wye and Usk salmon catches increase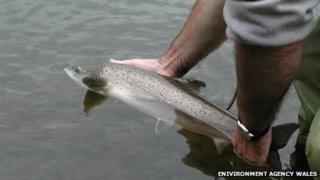 Catches of salmon have "substantially increased" at two east Wales rivers that have been the focus of work to boost the habitat of the fish.
Anglers on the rivers Wye and Usk have reported over 1,250 salmon from each water course this year - a 64% and 51% increase on their five year averages.
The Wye & Usk Foundation said they are bucking the national and international trend of salmon catches decreasing.
It credited restricting fish taken from the rivers as part of the improvements.
In a decade of investment, the WUF said a series of projects have been undertaken to "put right the damage done to stocks of this iconic and economically-important fish".
The work has included:
Re-establishing access to spawning grounds through fish pass construction (which helps salmon migrate up stream) and barrier removal.
Restoration of juvenile fish habitats.
Buying off commercial fisherman and restricting the number of fish taken from the river.
On the Wye, a pioneering scheme has also been developed specifically to restore streams affected by acid rain and, more recently, to reduce the effects of agricultural pollution.
Economic boost
Dr Stephen Marsh-Smith, executive director of WUF, said this year's salmon results had been "really encouraging".
"Many novice anglers caught their first ever salmon and there was a significant increase in the number of anglers returning to the Wye, bringing a much needed boost to the rural economy of east Wales and Herefordshire," he said.
"Although the overall restoration is not yet complete, funding has been secured to continue the work for the next three years.
"However, we also depend on the marine survival phase of salmon, as that is one factor entirely beyond our control."
Peter Gough, senior technical specialist from Environment Agency Wales (EAW), added: "After many years of disappointing figures and concern, during which many have worked hard to improve conditions for salmon in these two important rivers, it is heartening to see these figures."
Gary Turner, a salmon angler from Northampton, who caught a number of salmon from both the Wye and Usk in 2012, said a trip to the big Scottish salmon rivers was "expensive".
"I have fished the Wye and Usk a few times recently... they have become a very attractive alternative," he said.
"Added to that, there are definitely more salmon in the Wye and Usk this year."