X-Ray highlights children's hair straighteners concern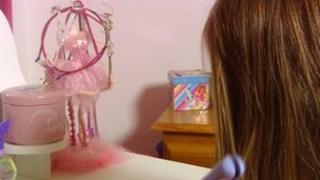 A hospital consultant has highlighted safety concerns from children's use of hair straighteners after seeing a rise in burns admissions.
The number of cases has risen from four to 26 at the Welsh Centre for Burns and Plastic Surgery at Swansea's Morriston Hospital since 2004.
BBC Wales programme X-Ray shows how some products are aimed at children.
One High Street store is removing one product from its shelves after being contacted by programme makers.
The consumer affairs series found that in the run up to Christmas a number of High Street retailers are selling a range of hair straighteners which feature images of cartoon characters and pop bands.
However, the straighteners can reach the same temperatures as products for adults with one reaching up to 235 degrees Celsius.
Dai Nguyen, a consultant at the Welsh Centre for Burns and Plastic Surgery at Swansea's Morriston Hospital, revealed that since 2004 the unit has witnessed a six-fold increase in the number of children admitted after receiving burns from hair straighteners.
She explained that because they only see the most serious burns, these figures could be "the tip of the iceberg".
The hospital does not record what type of straighteners cause the burns.
'Aimed at children'
Typically they are caused by adult straighteners but Dr Nguyen feels that those designed to be attractive to children could cause great harm if used unsupervised.
"I'm quite horrified," she said.
"You wouldn't dream of giving a child an iron to iron their hair straight and that's essentially what you're doing."
The programme showed some of the hair straighteners to a group of parents and children in Swansea.
One mother said the products were "definitely aimed at children" with some feeling they would appeal to children as young as four or five.
All the manufacturers denied marketing products directly to children and say the straighteners should not be used unsupervised.
X-Ray contacted Argos and Tesco which sell children's straighteners.
Both retailers said the products they sell meet strict safety standards.
Argos, which sells the greatest range, denied that the products are marketed directly at children although they admitted they appeal to them.
They are now promising to improve their product descriptions to make it clearer that straighteners should not be used by children.
Tesco was selling a set of mini straighteners for less than £10 which were covered with cartoon images.
The box stated they were suitable for use by those aged eight and over, but there was no indication of what temperature they could reach.
When contacted by X-Ray, Tesco took the decision to remove the item from sale with immediate effect.
X-Ray is on BBC One Wales at 19:30 GMT on Monday, 26 November