John Hefin: Funeral for TV director and ex-BBC Wales drama head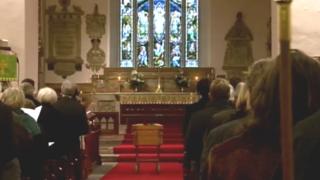 The funeral has taken place of John Hefin, the TV director and former head of drama at BBC Wales, who died at the age of 71 from cancer.
Hefin, from Borth, near Aberystwyth, was one of the creators of the Welsh language soap opera Pobol y Cwm.
He also worked on The Life and Times of David Lloyd George, and Grand Slam and won a Bafta Cymru award for outstanding contribution to television drama.
His funeral was held at Llanbadarn Church in Aberystwyth, on Saturday.
Following his death on Monday, Hefin's family said in a statement: "Throughout his life, John had so much pleasure working in the world of television, film and the media.
"As a producer and director, he was proud of the chance to work alongside so much talent in Wales - both on and off screen.
"He spent a large part of his life educating and inspiring others - something that pleased him immensely."
Hefin's family said he had been delighted to receive awards from Bafta Cymru and the media project Cyfrwng in recent months, and that his loss would be "greatly felt".
Hefin was awarded the MBE in 2009 and had been honoured with the white robes of the Gorsedd of the Bards at the National Eisteddfod.