Wales weather: 'Few problems' after heavy rain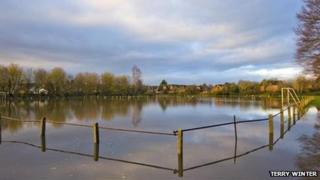 Wales appears to have escaped without the level of flooding that had been feared following a night of heavy rain - although more downpours are expected.
The Met Office had warned of possible localised flooding on Saturday after rain on Thursday left rivers swollen.
But emergency services said there had not been many reports of problems overnight, with a few houses and roads in south Wales affected by flooding.
More wet weather is expected later and there is one flood warning.
The Environment Agency issued the warning for the Lower Dee river, which stretches from Wrexham to Chester and Connah's Quay.
It also issued 20 flood alerts for Wales.
On Saturday the agency said the heavy rain was making conditions on the road "difficult" and warned that river levels could rise.
But South Wales Fire and Rescue Service said it had not been "inundated with calls" overnight and had dealt with roughly 14 call-outs to houses in Newport and Monmouth that had been affected by flooding.
Gwent Police said the A48 at Penhow, Newport, was closed in both directions because of flooding near Pike Road but it later reopened.
Motorists are also warned of flooding on the A4226 at Barry in the Vale of Glamorgan and the B4271 between Llanrhidian and Llangennith, Swansea.
More rain
South and west Wales is expected to experience the bulk of the bad weather, with rain moving in from about 11:00 GMT and remaining into the night.
It follows Thursday's high winds and heavy rain which left homes and businesses flooded.
Motorists were also badly affected and traffic was brought to a standstill as the A55 in north west Wales closed.
The clean-up is continuing and Gwynedd council has put its gritting team on standby.
"Due to the possibility of further extreme weather over the weekend which may involved standing water on roads turning to ice, we have put our gritting teams on standby," said Gareth Roberts, Gwynedd council's environment cabinet member.
"We would urge motorists to check the weather reports before embarking on any journeys, especially at night, and to proceed with care," he added.
Members of the public who experience difficulties as a result of the weather can ring the council's contact centre, Galw Gwynedd, on 01766 771000.
The enhanced content on this page requires Javascript and Flash Player 9
Map Key
Land
Cloud
Lakes, Rivers & Sea
Fog
Light
Heavy
Frost
Light
Heavy
Pressure Fronts
Cold
Warm
Occluded
Rain
Light
Heavy
Extreme
Snow
Light
Heavy
Temperature tab only
Temperature (°C)
More details from BBC Weather