Concern over growing increase in jobless women in Wales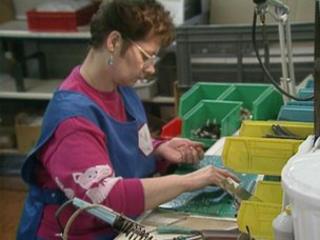 The growing number of unemployed women has been branded worrying and could erode 50 years of progress in equality, a leading rights group warns.
Unemployment in Wales fell to 121,000 in three months to September, according to the Office for National Statistics.
But the number of out of work women rose by 12,000 over the past year to 59,000. Male unemployment fell 26,000 to 63,000 in the same period.
Concerns come from the Equality and Human Rights Commission (EHRC).
Meanwhile, business academics warn the situation could worsen with a number of public sector cuts in Wales expected to hit women workers further.
"I think it's extremely worrying," Kate Bennett, national director for the EHRC in Wales, told the BBC's Sunday Politics Wales programme.
"A lot of women, particularly older women, are already working in part time, low paid work.
"If you've got a part time low paid role somehow those jobs may be more vulnerable to being cut when jobs go," she said.
"So I think it's very worrying if the gains that have been achieved over the past 50 years are now beginning to erode."
'Caring'
Other ONS figures show a doubling in the number of unemployed 50-64 year old women in Wales from 5,000 in September 2011 up to 10,000 in September 2012.
Rhianydd William, Wales policy officer for the Trades Union Congress (TUC), said many women in this age group have caring responsibilities for children, parents or grandchildren which are difficult to balance with full time employment.
"That's really concerning to us, that so many women are maybe losing out on full time employment maybe because of caring responsibilities and are moving either to being unemployed or to part time roles," she said.
"We would encourage more flexible working roles so that women can more ably balance their working responsibilities with their caring responsibilities."
Unemployment among women is likely to rise further over the next year, according to Dr Martin Rhisiart from the University of Glamorgan Business School.
"We are likely to see more people from the public sector losing their jobs and because a greater number of them tend to be women I would expect that proportion of women, particularly older women, unemployed to increase even further," he explained.
Sunday Politics Wales is on BBC One Wales on Sunday at 11:00 GMT.