A55 flooding 'needs urgent review' says AM Aled Roberts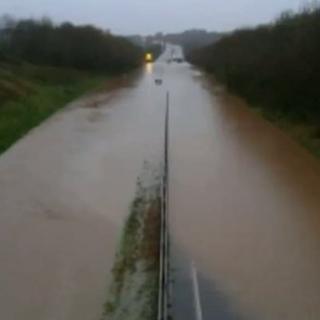 Calls have been made for urgent action to prevent flooding along the A55 and avoid a repeat of Thursday's "chaotic scenes".
Some motorists were left stranded near Bangor, Gwynedd, after the road closed following torrential rain.
North Wales AM Aled Roberts wants a review of drainage carried out.
The Welsh government said it would urgently investigate to see if improved drainage on the road would help prevent flooding in the future.
"It cannot be right that the only fast road into north Wales which everyone relies on for quick and easy access is turned into a river after some very heavy rainfall," said Mr Roberts.
He added that whilst Thursday's weather had been "exceptional" it was wrong that the A55 had been shut twice in the space of five months due to flooding.
"There needs to be an urgent review of drainage on the A55 taking into account the age of some sections of the road and our changing weather patterns," he added.
"In particular I am concerned about the section of the A55 between Llanfairfechan and Bangor.
"Parts of this road are very old and, I expect, built to specifications which do not take into account the increasing intensity of our rainfall."
A Welsh government spokesperson said a review would take place to "urgently investigate if improved drainage on the A55 at that particular spot could prevent similar occurrences in the future".
The spokesperson added that contingency plans were in place for adverse events, including agreed diversionary routes and lines of communication with the public and emergency services.
"However, extreme events such as the flooding that occurred yesterday are very difficult to avoid and therefore by their nature the response to them is reactive.
"As with all incidents that cause major disruption to the network we will investigate to see if there are any lessons to be learned from this incident."