Weather warning as heavy rain moves in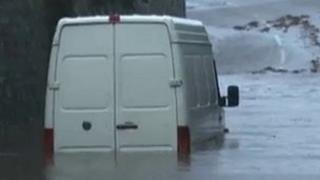 The Met Office is warning people of the possibility of localised flooding with more wet weather forecast.
Highways officials report reduced visibility due to rain and surface water on the M4 in Cardiff and Monmouthshire on Saturday.
Thousands of rugby fans expected in Cardiff for the Wales v New Zealand match have been warned that trains may be delayed if lines are flooded.
South Wales is likely to bear the brunt of the heavy rain, say forecasters.
The Environment Agency has two flood alerts in place covering the rivers Wye and Monnow in Monmouthshire and south Pembrokeshire, but no flood warnings.
The Met Office weather warning follows Thursday's high winds and heavy rain which left homes and businesses flooded.
Motorists were also badly affected and traffic was brought to a standstill as the A55 in north west Wales closed.
Cardiff city centre is set to be busier than usual with festive shoppers expected in droves with just four weeks until Christmas and a 74,500 sell-out crowd at the Millennium Stadium for the rugby at 17:15 GMT.
"With this in mind and with more bad weather forecast following some of the localised flooding we saw on Thursday night, I have asked the chief executive to ensure plans are in place to equip the council to deal with issues that may arise," said councillor Ashley Govier, Cardiff council's cabinet member for environment.
"This includes bringing in extra resources to help our flood team."
Clean up
Mr Govier added that anyone attending the rugby match should consider their travel plans carefully and allow extra time to make their journey.
Arriva Trains Wales said the rail network could potentially be affected by flooding and services may be delayed or cancelled at short notice.
It urged people heading to the rugby match to check the status of their journey online before travelling or by ringing National Rail Enquiries.
Meanwhile, the clean-up is continuing following Thursday's weather where north Wales was worst affected.
Motorists were stranded, workers unable to get home from work and parents had to make arrangements after being unable to collect their children from schools in the Gwynedd and Conwy area.
Rest centres were opened at Llandudno Junction, Caernarfon and Bangor overnight after drivers on the A55 in north west Wales abandoned their cars.
Flash flooding hit scores of properties in Snowdonia, while winds of up to 90mph battered south-west Wales.
Gwynedd council has warned residents the risk that floodwater may be contaminated and gave further advice for the weekend.
"Due to the possibility of further extreme weather over the weekend which may involved standing water on roads turning to ice, we have put our gritting teams on standby," said Gareth Roberts, Gwynedd council's environment cabinet member.
"We would urge motorists to check the weather reports before embarking on any journeys, especially at night, and to proceed with care," he added.
Members of the public who experience difficulties as a result of the weather can ring the council's contact centre, Galw Gwynedd, on 01766 771000.
BBC Wales meteorologist Derek Brockway said Wales had not seen the last of the wind and rain.
"First thing on Saturday will be some sun, but rain is forecast later, and it will be an unsettled start to next week with snow possible on the mountains. It will also feel cold," he said.
The enhanced content on this page requires Javascript and Flash Player 9
Map Key
Land
Cloud
Lakes, Rivers & Sea
Fog
Light
Heavy
Frost
Light
Heavy
Pressure Fronts
Cold
Warm
Occluded
Rain
Light
Heavy
Extreme
Snow
Light
Heavy
Temperature tab only
Temperature (°C)
More details from BBC Weather