Iceland banks still owe Welsh bodies £28m compensation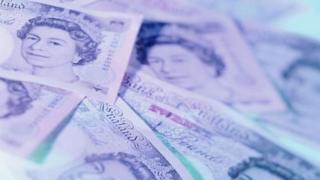 Public sector bodies in Wales are still owed more than a third of the cash they had invested in Icelandic banks.
Eight councils, three universities and three former police authorities had almost £75m tied up in the country's banking sector which collapsed in 2008.
Neath Port Talbot council is due the most, with £8m of £20m outstanding, and Caerphilly council is owed £5.6m.
The Welsh Local Government Association (WLGA) said it was possible bodies may get nearly all the money back.
The global financial crisis of 2008 saw Iceland's three major banks going under, taking with them nearly £1bn of investments from more than 100 authorities across the UK.
Other public sector bodies also had money in the banks, along with charities and individuals.
Gwyn Jones, finance director for Ceredigion council who has been representing Welsh councils during Local Government Association meetings, said at the end of 2008 councils did not know how much money they would get back.
"I think at worst it would be about one-third of what we were expecting and then in the discussions we had with the solicitors, the view was we should be treated as priority creditors," he said.
"And that's the battle we've had though the courts to get that approved and we have successfully managed to do that.
"As a result of that success, it's left us now with the possibility of getting nearly all of the money back. "
Placing money in Iceland seemed an attractive proposition in 2008, when at one point interest rates were as high as 18%.
In Wales, the university sector has seen the most success at having its money returned.
Slowest rate
Between them, the University of Wales, Aberystwyth University and Glyndwr University, Wrexham, have recouped £6.5m of the £8.2m they had invested.
Glyndwr University is still waiting for the most money, just over £800,000 on its £3m investment.
Neath Port Talbot council has the largest outstanding balance to recoup, followed by Caerphilly council.
Ceredigion council has still to see £1.8m of the £5.5m it invested, while Flintshire council has the slowest rate of refund, with almost 60% of its £3.7m outstanding.
Credit ratings
The former South Wales Police Authority had £7m deposited in Iceland. It has currently received around half of it back.
Across the UK, local authorities have recovered around £700m.
Most individuals who deposited money in the banks have received compensation, paid by the Financial Services Compensation Scheme (FSCS).
Most of the money was deposited when the banks still had good credit ratings and Mr Jones said things had now changed.
"We didn't do anything wrong at the time but what we have done since that time is that we've tightened up our investment strategy even more than it used to be," he said.