Alun Michael: More bobbies approach 'too crude'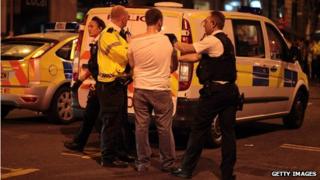 The different approaches to policing under crime commissioners have been thrown into stark contrast by two of the new people in the job.
North Wales commissioner Winston Roddick says getting more officers on the streets is his priority.
But in south Wales, Alun Michael has described that approach as "too crude".
All four commissioners elected last week are officially starting their new jobs on Thursday.
They have the power to set policing priorities and force budgets, and also to hire and fire chief constables.
Speaking to BBC Wales before taking up his new office, Mr Roddick said that he had pledged to get more officers on the beat and he would be sticking to that priority.
He said: "The important thing is to ensure there are enough police officers on the streets, so they are able to cope with the crimes taking place."
Mr Roddick stood as an independent candidate for the north Wales post, and was the Welsh government's former top legal officer, as well as being a senior judge.
He will be working with Mark Polin, the chief constable of North Wales Police, who warned the outgoing police authority this week that his force had already been stretched dealing with a series of major incidents.
Mr Roddick's counterpart in south Wales, the former Labour MP and ex-Home Office minister Alun Michael, has also been setting out his priorities.
In an interview with BBC Radio Wales, he accepted that the south Wales force faced major funding challenges.
"There is a massive reduction in the finance from central government," he said.
"That's having a dramatic effect, though I think the South Wales Police and the previous police authority have responded pretty well in the way they have dealt with an unacceptable situation.
"We have to get the finances right."
'Building relationships'
He said the approach he expected to take was to focus on engaging with the police, communities and other agencies to reduce crime.
"We can squeeze more out of that approach, in my view, if we get a really strong partnership with other agencies - and that's my number one priority," he said.
He also rejected the comments from Mr Roddick about more police on the streets.
"It's too crude. People don't want people on the beat just for the sake of seeing them," he argued.
"The public are more sophisticated than just asking for bobbies on the beat.
"What they want is to know that the police are there when they need them, that they are tackling their priorities and that they respond quickly when they need to ask the police to deal with an incident or events."
Mr Michael will be working alongside the head of the south Wales force Peter Vaughan.
The chief constable said he already had a good working relationship with Mr Michael from when the new commissioner was the MP for Cardiff South and Penarth.
"For me, it's about building the relationship and the important thing is we are in the business of keeping south Wales safe," said Mr Vaughan.
"Everything Alun has said so far strikes a chord."
Mr Vaughan said he also welcomed the expected scrutiny from the new commissioner.
"When there is intrusion, when there is an interest, we get better at what we do, because we need to know what the public want us to do," he said.
Two other police commissioners also took up their posts in Wales on Thursday, with the Conservative's Christopher Salmon elected to oversee the Dyfed-Powys force, and independent and former chief constable, Ian Johnston taking up the reins in Gwent.